On September 30, President Obama issued a proclamation designating October as National Cybersecurity Awareness Month. As we reach the end of this year's campaign, we should take stock of where we have made progress in strengthening cybersecurity, and where we have more work to do.  
Like others in the public and private sectors, the Department of Energy plays a unique role in promoting our nation's cybersecurity. Within the Department, we are responsible for protecting sensitive national security and personally identifiable information, while also providing online access for the academic community to the advanced computing power available at our national laboratories. The Department also leads the federal government in strengthening the security and resilience of energy infrastructure nationwide -- for gas and oil as well as the electrical utilities sector -- and we are working closely with industry partners and other key stakeholders to improve cybersecurity as an essential element of that responsibility.
At the same time, our national laboratories have some of the most advanced computing capabilities in the world, which provide a valuable resource to our federal partners on cutting-edge research and development in support of improving cybersecurity on a national level.
The Department of Energy has experienced many cyber attacks. In response, we have established a Joint Cybersecurity Coordination Center to improve coordination within our own system, and we have upgraded the software we use to protect against cyber intruders. We recognize that we need to continue to improve our practices and "cyber hygiene," while continuing to keep abreast of improving hardware and software.
But governments comprise just one part of a much larger challenge. Every day we see how cyberspace increasingly shapes our personal and professional activities. From the kitchen table to the office, from online banking to interactions on social websites, cyberspace is woven into the fabric of our daily lives. We greatly enjoy the benefits and convenience of the Internet, but such convenience and instant access comes at a price.
As we become an increasingly connected society dependent on instant access, our adversaries -- among them, cyber criminals -- continue to evolve in their skills and methods of attack. That is why it is critical that all Internet users understand the nature of these cyber threats and the importance of practicing safe online behavior.   
National Cyber Security Awareness Month is an excellent opportunity for the Department to improve its cybersecurity by raising awareness and conducting training for our employees.  All this month, the Energy Department's Office of the Chief Information Officer has held events to promote cybersecurity awareness under the theme "Stop, Think, Connect," in partnership with the U.S. Department of Homeland Security.
Here are some easy steps you can take to prevent your cybersecurity, both at work and at home:
Set strong passwords, change them regularly and don't share them with anyone.
Keep your operating system, browser and other critical software optimized by installing updates on your computer, your tablet and your smartphone.
Maintain an open dialogue with your friends, family and colleagues about online safety and security.
Use privacy settings and limit the amount of personal information you post online.
Be cautious about online offers. If something sounds too good to be true, it probably is.
Login directly and conduct inquiries on company websites, not through an email link. If you are still uncomfortable, call the company's customer care line.
For more tips, visit www.dhs.gov/stopthinkconnect.
To learn even more about the Department's efforts to advance cybersecurity, join the Office of the Chief Information Officer's Cyber Innovation Technology Summit next Tuesday from 8 a.m. to 12 p.m. EST. The event will be livestreamed on energy.gov/live.
National Cyber Security Awareness Month reminds us that being safer and more secure online is a shared responsibility. All users of online systems and platforms play a crucial role in securing their personal and professional corners of cyberspace. By taking this responsibility seriously, all citizens can work toward a cyberspace that is safer and more resilient, and that remains a source of tremendous opportunity and growth for years to come.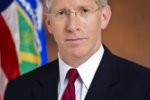 Daniel B. Poneman
Daniel B. Poneman served as the Deputy Secretary of Energy from May 18, 2009, to October 5, 2014.Daniel B. Poneman served as the Deputy Secretary of Energy from May 18, 2009, to October 5, 2014.
more by this author