You are here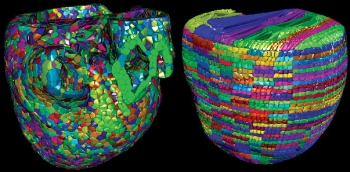 The Cardioid code developed by a team of Livermore and IBM scientists divides the heart into a large number of manageable pieces, or subdomains. The development team used two approaches, called Voronoi (left) and grid (right), to break the enormous computing challenge into much smaller individual tasks. | Photo from the Lawrence Livermore National Laboratory
While technology still has no answers for those stung by my arrows, a powerful supercomputer at the Energy Department's Lawrence Livermore National Laboratory has produced the world's most highly resolved simulation of the human heart in action. The simulation holds tremendous promise in helping researchers better understand how the heart works and responds to different medicines, which could accelerate the development of treatments of heart disease.
While Livermore's Sequoia supercomputer -- one of the world's fastest and most powerful -- was built to perform critical research to maintain the safety and reliability of America's nuclear weapons arsenal, it also has been made available for a team of researchers from Livermore and IBM who used it to create the world's most detailed simulation of the human heart. 
The simulation replicates the heart's electrophysiology, showing how electrical signals activate heart muscles and pump blood throughout the body. When those signals become disorganized, they can cause a heart arrhythmia. In the most serious cases, it can trigger sudden cardiac arrest – one of the leading causes of natural death in the United States, responsible for more than 300,000 deaths each year.
The simulation is vastly more powerful and useful than previous heart simulations for two reasons:
It allows researchers to simulate the heart's electrical system at roughly the cellular level, giving researchers a much more complete and detailed understanding of how heart muscle cells respond to electrical impulses.

Livermore's powerful supercomputers allow the simulation to run much more rapidly, simulating thousands of heartbeats in just over an hour.  Previous simulations took roughly 45 minutes to simulate a single heartbeat.  The faster speed allows for a much deeper understanding of how the heart responds to medications over a longer period of time.
The next phase of the project will involve expanding the simulation to include the mechanical operations of the heart – how the muscles contract and work in concert to pump blood through the body. This simulation will allow researchers to tackle other types of cardiac disease, including heart attacks. 
There is one major limit to a simulated heart, however. While the simulation can model the response of the human heart to a variety of potential medications, not even a powerful supercomputer can predict whether flowers and chocolate can cure a broken heart on Valentine's Day.