Editor's Note: This entry is crossposted from the Energy Savers Blog.
Every Thanksgiving, we hear stories about an imprudent cook deep frying a turkey inside, resulting in fiery disaster. But a more humdrum risk of deep-frying is improperly disposing of the grease. Pouring it down the drain, which can clog municipal pipes and pollute local waterways, is actually illegal in many places. A better option is to have it recycled into biodiesel. Some Clean Cities coalitions, supported by the Office of Energy Efficiency and Renewable Energy's (EERE) Vehicle Technologies Program, have worked with their local governments to make holiday drippings into clean fuel.
This year, Pima County (Tucson), Arizona collected more than 4,400 pounds of used oil at their sixth annual Day After Thanksgiving Grease Recycling Day. Working with the Tucson Clean Cities Coalition and several local businesses, they collected cooking oil at five different locations. Since the first event in 2005, they have recycled more than 13,000 pounds of grease! The used oil will be converted into biodiesel through a chemical process that makes it safe to use in vehicles. In contrast, using yellow grease (also known as straight vegetable oil) directly in vehicles is not recommended. Running a vehicle on yellow grease without transforming it into biodiesel can build up carbon deposits in the engine and significantly reduce engine life.
Because frying happens all year long, the City of Hoover, Alabama, in collaboration with Alabama Clean Cities, continually recycles used oil. Residents can drop off grease at any fire station in the city, which a recycling company picks up. So far, they've recycled more than 32,000 gallons of used cooking oil since 2007. The resulting biodiesel powers the city's two trolleys that transport residents during community events. In addition to reducing petroleum use, the biodiesel also results in cleaner air for the community. Biodiesel produces fewer smog-forming pollutants than petroleum-based diesel and reduces lifecycle greenhouse gas emissions by more than 78%.
At Loyola University in Chicago, students recycle grease, sell the biodiesel to the university's shuttle bus company, and use the residual materials to create Biosoap. Other programs include those in Newport, Rhode Island, DeKalb County, Georgia, and Florence, Alabama.
Wherever you live, there is probably both wasted cooking oil and diesel vehicles that could benefit from running on a biodiesel blend. If you don't have a grease recycling program in your area, contact your nearest Clean Cities coordinator to find out opportunities about biodiesel production.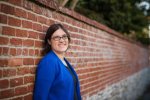 Shannon Brescher Shea
Shannon Brescher Shea (shannon.shea@science.doe.gov) is the social media manager and senior writer/editor in the Office of Science's Office of Communication and Public Affairs.
more by this author