You are here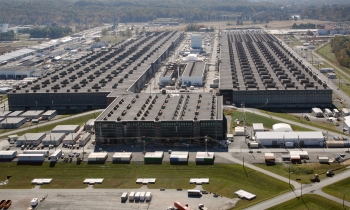 The 44-acre K-25 superstructure made significant historical contributions during its years of operation. | Photo credit Oak Ridge Office photographer Lynn Freeny.
A new industrial park is being built in East Tennessee – and it's got some history behind it. What was once a site for producing enriched uranium, the K-25 complex is now the site of the largest environmental remediation project in Tennessee history.
Thanks to a memorandum of agreement between the Energy Department, the Tennessee State Historic Preservation Office, the Advisory Council on Historic Preservation, the City of Oak Ridge, and the East Tennessee Preservation Alliance, a multi-year plan is in place to commemorate Oak Ridge's K-25 complex. This project will commemorate the historic contributions of the K-25 site to the Manhattan Project and the Cold War.
The complex was home to more than 500 facilities and 12,000 workers during its peak operations. From 1943-1987, the K-25 site produced highly enriched uranium, which was used in the first of two atomic bombs that ended the war with Japan and provided fuel for the first nuclear powered submarine and the first atomic power station. The complex was also pivotal in improving flu and polio vaccines through the liquid separation process.
The K-25 site is known today as the East Tennessee Technology Park. The new agreement will turn the property into an industrial park for future economic development. Two components of the agreement include the construction of a three-story equipment building that will recreate a scale representation of the gaseous diffusion technology and the creation of a history center to exhibit K-25 equipment, artifacts, and media.
While progress continues on the K-25 project, the Department's Office of Environmental Management continues to make progress on other crucial cleanup projects in Tennessee and throughout the 34,000-acre Oak Ridge Reservation.