You are here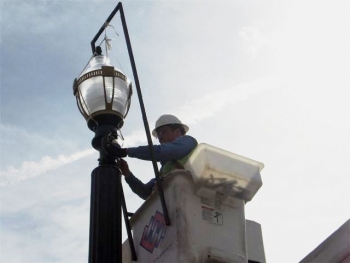 A worker installs energy-saving streetlights on Colorado Avenue. | Photo courtesy of Springs Sustainability
In 2009, the city of Colorado Springs received $3.6 million in Recovery Act funding from the Energy Efficiency and Conservation Block Grant (EECBG) Program. Since then, the city has invested the money into several projects to reduce energy waste throughout the community. So far, these projects include energy audits of city-owned buildings, municipal energy improvements, replacing streetlights with energy efficient LED streetlights, and weatherizing approximately 50 low-incomehomes. We spoke with Jay Anderson, Grants Coordinator for the City of Colorado Springs, who told us that the community is already seeing the positive effects of the Department of Energy investments.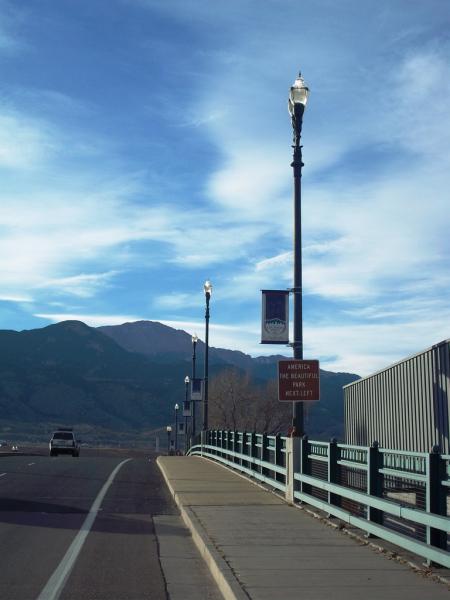 Streetlights on Colorado Bridge leading to 'America the Beautiful' park are being replaced with energy-saving LED lights | courtesy of Springs Sustainability
Jay told us that as an added bonus to the projects mentioned above, students from three Colorado Springs universities had the opportunity to conduct hands-on energy audits of several local businesses, which were then able to make simple energy efficiency upgrades and reduce power consumption -- therefore decreasing utility costs for the participating small business owners. The program, a joint effort between Colorado Springs Utilities and the Farnsworth Group, was an effort to engage college students interested in the field of energy auditing and retrofitting.
The students who participated in the 11-month program gained valuable work experience while helping local businesses save money. The program enlisted students from three schools: the University of Colorado at Colorado Springs (UCCS), Colorado College (CC), and Pikes Peak Community College (PPCC). In addition to the know-how he gained, recent UCCS Mechanical Engineering graduate William Rees said the program gave him a "good feeling…that I can save people money by upgrading their system's efficiency and reduce their power consumption."
Jay also told us that since the city received the funds, they have been hard at work implementing energy-saving measures in the community to help save money and reduce waste. "We've already purchased the LED streetlights -- which are being installed as we speak in locations around the city; including on bridges, walkways and coming soon to residential areas." Jay also told us he's planning some exciting events for Colorado Springs residents who take part in the city's energy efficient improvements – which will possibly involve the legendary Colorado Springs Sky Sox. In addition to the hands-on training the local college students received, Jay says the city has already been able to reimburse local business owners for energy improvements, who are subsequently seeing early savings from the Recovery Act investments.
We'll check back with Jay in a few months to hear more about this business with the Sky Sox, but until then -- keep up the good work Colorado Springs!
April Saylor is an Online Content Producer and contractor to the Office of Public Affairs.