You are here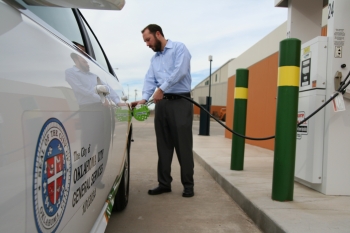 Andy Mitchell, Public Works Project Manager for the City of Oklahoma City, refills a vehicle at the new fast-fill CNG fueling station located at the city's main maintenance facility. | Courtesy of the City of Oklahoma City.
Oklahoma has long been known for its close association with petroleum. In fact, the first commercially drilled oil well was established there in 1897, a full 11 years before Oklahoma even achieved statehood. 
However, even in places like the Sooner State where oil is plentiful, its use in vehicles is subject to price spikes and pollutes the air. Oklahoma City is also the nation's second-largest city in terms of land area – 622 square miles. Consequently, the city's fleet vehicles, which include everything from garbage trucks to police cars, must travel long distances during the course of the average workday. Switching from gasoline and diesel fuels to compressed natural gas (CNG) can mean significantly lower amounts of carbon dioxide and air pollutants, including carbon monoxide, nitrogen oxide, non-methane hydrocarbon, particulate matter, and toxic and carcinogenic pollutants.  It can also help reduce America's dependence on foreign oil.
For these and other reasons, Oklahoma City has been working to convert a portion of its vehicle fleet from gasoline and diesel fuel to CNG.
As part of the conversion process, Oklahoma City used $1.28 million from its Energy Efficiency & Conservation Block Grant to install a fast-fill CNG fueling station at Oklahoma City's main maintenance facility to reduce vehicle emissions and public fuel costs, and save valuable time.
The new station's capabilities allow employees to refill the tanks of the city's 89 CNG-powered vehicles in minutes. Previously, the amount of time required to fill a vehicle with CNG was a barrier to expanding the size of the CNG fleet. With the fast-fill station completed, a typical vehicle can be filled in as little as seven minutes.
Jennifer Gooden, Director of Oklahoma City's Office of Sustainability, predicts the benefits of the project will extend well past the completion date. "This allows the city to purchase more CNG vehicles, which increases our efficiency by reducing our fuel costs," Gooden said.
The fast-fill station paves the way for heavy equipment purchases including METRO Transit city buses that will be fueled by CNG. The project also supports Oklahoma City's goals to become a leader in energy efficiency and sustainability and reduce greenhouse gas emissions by 10 percent by 2015.