You are here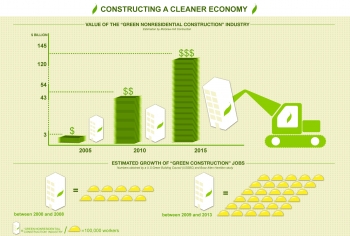 An overview of the impact that the clean energy economy is having on the U.S. construction industry. Download the full resolution graphic.
Some people talk about the clean energy economy as if it's a hypothetical future development, but the fact is that it's already here and poised for tremendous growth in the coming years. According to a recent study by the Brookings Institution, today's clean economy employs some 2.7 million workers across a diverse array of industries. Sectors such as solar energy and green construction have seen strong job gains over the past few years.
In 2005, nonresidential green building construction was a $3 billion dollar industry in the United States. By last year, the value of that industry had soared to somewhere between $43 billion and $54 billion -- a gain of at least 1400 percent in the midst of a recession. McGraw Hill estimates that by 2015, that market will rocket to a value somewhere between $120 billion and $145 billion. Those gains buck the general trend of the construction industry, which has struggled in recent years. In fact, the U.S. Green Building Council projects that these green construction projects will support 3.3 million workers between 2009 and 2013, up from just over 1 million in the eight years prior.
The growing clean energy economy impacts people like Nickolas Narcio, a former construction worker from Flint, Michigan who had been out of work since being discharged from the Air Force in April of 2010. Nickolas struggled to find construction openings until he took a chance and applied for a position with Eco Technologies, a Florida company that specializes in providing eco-friendly energy solutions. They saw potential in his construction background despite his lack of solar experience and thanks to a contract they had received to install solar panels on a local judicial center, Eco Technologies was able to hire and train Nickolas to complete the job, along with 10 other new hires. Nickolas sees this as a distinct opportunity -- one that will open new doors for him and serve as gateway into a new industry: "Green technologies are an emerging market in this country, and I think there is value in knowing how to do what I do."
Nickolas's story highlights another growing segment of the clean energy economy, solar power. The International Energy Agency projects that solar power will grow steadily, producing nearly a quarter of the world's electricity within four decades. In the past year alone, grid-connected photovoltaic installation in the U.S. has increased by 69 percent.
That's putting construction workers like Nickolas to work on projects ranging from outfitting individual homes and small businesses with solar panels to equipping the expansive stadiums with large scale solar arrays, so that NFL teams like the Seattle Seahawks, the Philadelphia Eagles and the Washington Redskins can drive down the energy costs they incur as their teams drive down the field. All told, a recent Solar Foundation census determined that the solar industry now employs more than 100,000 workers in the United States, a 6.8 percent jump from just a year ago.
These are just two sectors of the expansive clean energy economy, but they illustrate how clean energy investments are building the foundation for new industries in America and producing paychecks for workers all across the country. The federal government and the private sector must continue to invest in making America the leader in clean energy development and deployment, so that American workers can reap the benefits.
The clean energy economy is not coming soon, it's here and growing by the day.