You are here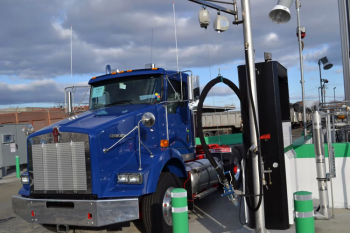 Waste hauler Enviro Express converted its fleet of heavy-duty trucks to run on liquefied natural gas (LNG) and built the first LNG station east of the Mississippi River with help from the Energy Department's Clean Cities initiative. | Photo courtesy of New Haven Clean Cities Coalition.
This article is part of the Energy.gov series celebrating the 20th anniversary of the Energy Department's Clean Cities initiative by highlighting the work of some of the community-based coalitions that are helping reduce our nation's petroleum consumption in transportation.
Moving everything from food to furniture to garbage, heavy-duty trucks drive our economy. Many heavy-duty fleets depend on diesel fuel because of the size, range and power requirements of their trucks and can find it challenging to switch to alternative fuels. But to reduce fuel costs and harmful emissions, an increasing number of trucking companies are transitioning their vehicles to run on liquefied natural gas (LNG). One such company is waste hauler Enviro Express who converted its fleet of 18 heavy-duty trucks to use LNG in 2010 with help from the Energy Department's Clean Cities initiative.
Bill Malone, Enviro Express's owner and founder, became interested in transitioning his fleet to LNG after discussions about the benefits of alternative fuel with Ed Bowman, the Connecticut Southwest Area Clean Cities Coalition coordinator. Enviro Express's willingness to switch to LNG allowed the company to become a key part of a proposal for competitive funding under the American Recovery and Reinvestment Act. As part of the Connecticut Clean Cities Future Fuels Project, Enviro Express received $6.2 million to transition 18 of its trucks to LNG and build the first LNG station east of the Mississippi River.
LNG provides similar power as diesel, is consistently less expensive than diesel, and because it has more energy per gallon, enables vehicles to travel further on a tank than compressed natural gas. With each of its trucks running more than 100,000 miles annually, Enviro Express has logged more than 3 million miles on and used more than 1 million gallons of LNG. As a result, the company's fuel costs have plummeted -- Enviro Express is paying almost $1.25 less per gallon for LNG than diesel and is saving more than $20,000 a year.
Appreciating the benefits of using cheap, low-emission LNG to power its heavy-duty trucks, Enviro Express is now working with Clean Cities to help spread the word in addition to independently purchasing another LNG truck. Lee Grannis, the coordinator of the New Haven Clean Cities Coalition, has been successfully using Enviro Express's story as an outreach tool -- getting Gulf-Cumberland Farms to convert 34 of its trucks in Connecticut, Rhode Island and Massachusetts to run on LNG. Similarly, this outreach convinced a logistical support fleet in Pennsylvania's natural gas fields to recently buy a number of LNG tractors after visiting with Enviro Express. "It provided a practical demonstration for other fleets in the area," said Grannis. "You need to have a solid operating base that works to show people."
In tandem with the Connecticut Clean Cities' Future Fuels project, other Clean Cities' efforts are laying the foundation for LNG deployment throughout the country. Besides building the first station on the East Coast, Clean Cities projects also established Ohio's first LNG station and completed a key LNG corridor from California to Utah with the installation of a LNG station in Las Vegas.
Following the example of these early projects, a number of major fueling companies have announced plans to independently build combined LNG and compressed natural gas (CNG) stations. Clean Energy, Shell and energy provider ENG plan to build more than 200 new stations in 2013 alone. This investment will almost quadruple the 59 stations that were open at the end of 2012. Similarly, National Clean Fleets Partner UPS recently announced it will purchase 700 LNG trucks by the end of 2014 to support its operations.
Using LNG in heavy-duty vehicles offers great promise for reducing the country's dependence on imported oil. While only a small fraction of the U.S. heavy-duty fleet has switched so far, if all Class 7 and 8 trucks in the U.S. converted to LNG, it would reduce the country's oil use by nearly 14 percent. Clean Cities is facilitating that transition by leveraging pacesetters' successes -- like Enviro Express -- to catalyze wholesale change.