This article is part of the Energy.gov series celebrating the 20th anniversary of the Energy Department's Clean Cities initiative by highlighting the work of some of the community-based coalitions that are helping reduce our nation's petroleum consumption in transportation.
Which came first, the plug-in electric vehicle (PEV) or its charger? Because you can't have one without the other, the Energy Department's Clean Cities coalitions nationwide are helping their communities get ready for PEVs by using local knowledge to ensure that both are easily deployed and available to consumers.
To support the adoption of clean transportation technologies that give drivers more options, the Energy Department invested about $130 million through the American Recovery and Reinvestment Act -- in addition to other federally supported projects -- to evaluate thousands of PEVs and their supporting residential, commercial and public chargers. These projects -- led by companies Chargepoint America and Ecotality -- are collecting comprehensive data to help researchers and other stakeholders understand how consumers use the vehicles and chargers. City planners, PEV charging companies and others can use this public data to improve permitting for residential installations and map out new locations for public chargers. Local Clean Cities coalitions have been key to improving these projects' reach and effectiveness -- helping companies select the best locations in their communities for chargers that would maximize use and minimize overlap.
In Seattle, the coalition and regional council used transportation models in mapping software and survey data to estimate where PEV drivers need to charge. The coalition's research found that while most people working in the city drive fewer than 10 miles to work -- leaving most PEVs with enough charge for a round-trip -- drivers working outside the urban area drove 20-40 miles to work and were less likely to make the entire trip on electricity. In addition to installing chargers in the employment areas in the suburbs, the group also helped place chargers in other locations where people drive a significant distance and leave their car for several hours at a time, including stadiums, malls and airports.
In Oregon, the Clean Cities coalition helped Ecotality's EV Project find appropriate public and private charger hosts in Portland, Eugene, Corvallis and Salem. They also coordinated the deployment of more than 20 DC fast chargers along the West Coast Electric Highway, a 585-mile network through Washington and Oregon -- enabling drivers to add 60 to 80 miles of range to their PEVs in just 20 minutes.
Similarly, the Tucson, Arizona, coalition organized a working group with city officials, county government staff members and participants from the nearby Phoenix coalition. "We were able to go out to the community and find out what their needs were," said Tucson Clean Cities coordinator Colleen Crowninshield. "If it hadn't been for coalition involvement, we likely wouldn't have had infrastructure placed throughout Tucson." In addition to placing chargers in Tucson and Phoenix, the group is developing a fast-charging corridor between the two cities, similar to the West Coast Electric Highway that connects Washington and Oregon.
It was often a challenge to ensure the diverse partners communicated well and worked towards the same goals. Seattle's Stephanie Meyn said, "The most challenging thing about coordinating the installation of hundreds of charging stations over a two-year period was recognizing how important it was to share 'lessons learned' as we were learning them." Fortunately, their efforts are paying off, and these regions are setting the pace for others to follow. According to coordinators, PEV drivers greatly appreciate the new chargers. Tucson's Colleen Crowninshield said it was wonderful to have drivers call her and say, "Oh my gosh, this was exactly what we needed."
In addition to the charging infrastructure installed in these and other major cities, Clean Cities coalitions across the country are now working to streamline local permitting, zoning, training and planning for PEVs. From the East Coast to the West Coast and everything in between, Clean Cities coalitions are working to help their local communities reduce their dependence on imported oil for transportation by paving the way for widespread use of PEVs and other alternative fuel vehicles.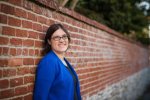 Shannon Brescher Shea
Shannon Brescher Shea (shannon.shea@science.doe.gov) is the social media manager and senior writer/editor in the Office of Science's Office of Communication and Public Affairs.
more by this author