You are here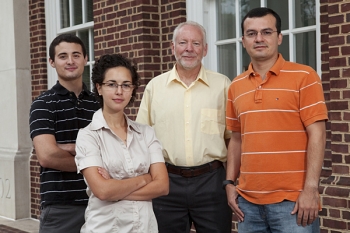 Pictured left to right: University of Delaware students Joseph Camp and Nicole Suto; Keith Goossen, director of the Industrial Assessment Center; and Cesar Duarte, University of Delaware grad student. | Image courtesy of UD.
As part of the Energy Department's Office of Energy Efficiency and Renewable Energy, 24 Industrial Assessment Centers (IAC) from across the country provide energy, waste and productivity assessments to small and mid-sized manufacturers concerned about energy efficiency. The Energy Savings Assessments are conducted at no cost, and even better, the teams conducting the audits are university students. The IACs offer the next generation of engineers valuable hands-on training -- making these programs a win-win for all involved. 
At the University of Delaware's (UD) IAC, the evaluations recommended energy-saving steps that could save manufacturers approximately $16 million. One company that received an assessment -- the Chrome Deposit Corporation (CDC) facility in Newark, DE -- is seeing significant energy savings despite continuing to expand its facility's operations, thanks to the implementation of several recommendations the UD IAC provided.  
 
This facility -- one of seven CDC plants located across the country -- specializes in hard chrome plating of metals. The plating process itself is energy-intensive and relies on both electrical and natural gas resources to fuel operations. So in an effort to save energy and money, CDC initiated an Energy Savings Assessment through the UD IAC program to help identify areas of concern and potential energy savings.
 
According to Dr. Keith Goossen, Director of the UD IAC, this particular Energy Savings Assessment consisted of an in-depth tour and evaluation of its facilities, services and manufacturing operations. Like each assessment conducted by an IAC team, the process involved a thorough examination of potential savings from energy efficiency improvements recommended and the improvements that the company could expect.  
 
Following a tour of the facility, an examination of the facility's utility bills and descriptions of the manufacturing systems used, the team suggested several changes to the plant that could increase energy efficiency and save money. CDC implemented most of these recommendations and plans to make additional changes as upgrades to equipment are required. The company insulated tanks and pipes, installed covers on plant exhaust fans, reduced compressed air pressure, and replaced motor drive belts with energy efficient pulleys and cogs.
 
While all this might sound like an extensive undertaking, Dr. Goosen says changes like these are actually fairly simple and can result in significant savings. For example, the team's analysis of stack gases from the boilers used to heat chrome tanks and wastewater evaporation resulted in a major reduction of natural gas consumption. Following the completed analysis, technicians adjusted boiler settings to achieve the recommended burn ratios -- resulting in a 12 percent decrease in natural gas usage despite increased production at the facility.
 
Another notable outcome of this Energy Savings Assessment included a drastic reduction in water usage. While CDC's rectifiers were initially cooled by city water, the facility implemented a closed loop system to cool heated water, resulting in an 85 percent reduction in water use. This change helped the company consume less water, another achievement for CDC.
 
The success of the Newark CDC facility is now used as a benchmark within the company's network of plants. The site's energy efficiency efforts have not stopped with the recommendations of the UD IAC, either. Company management decided to set its own in-house goals of increasing the miles per gallon of its truck fleet by 5% and has already taken steps to increase fuel mileage.
 
With a few inexpensive, easy changes, CDC has been able to reduce its energy costs by 25 percent per unit, minimize its environmental impact and continue to promote innovative solutions to its energy management practices.
 
Energy efficiency success stories like these are happening at Industrial Assessment Centers all over the country. Whether you're a student interested in getting involved with an IAC on your campus or a business trying to improve efficiency, visit the website to learn more.