You are here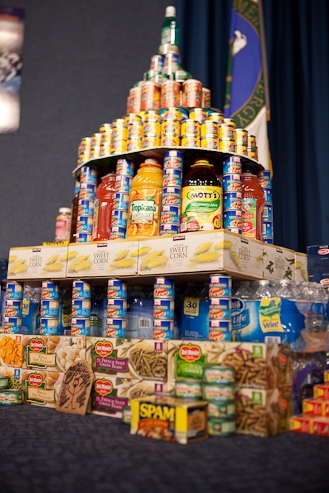 A sculpture of the U.S. Capitol, constructed by employees from The Department's Human Capital Office. | Image credit: Hantz Leger, Department of Energy
"Don't play with your food!" That was the advice, err mandate, that most of us received from our parents as children.
 
Recently, Energy Department employees were encouraged to suspend that advice, if only for a day, and embrace their inner child.
 
At the Energy Department Feeds Families Sculpture Contest, employees from across the organization made sculptures out of packaged food and household products to support the larger federal effort to help feed needy families in D.C. and beyond.
National Nuclear Security Administration Administrator Tom D'Agostino was on hand to witness competing teams craft "sculptures" of some of Washington's most iconic monuments, including the U.S. Capitol and the Lincoln Memorial.
 
Participants certainly made an impact, donating 2,160 pounds of food at the event and pledging 130 pounds more. Those totals can be added on to the recent donations made at Energy Department events, which collected 411 pounds of food from the Germantown office building and 525 pounds from Forrestal building, respectively.
 
All proof that playing with your food isn't always a bad thing.