You are here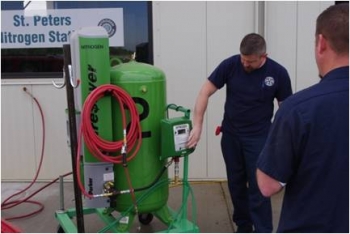 Workers demonstrate the nitrogen tank used to inflate tires in St. Peters, MO. | Courtesy of the City of St. Peters
Residents of St. Peters, Missouri are seeing several improvements in their community thanks to a $512,800 Energy Efficiency and Conservation Block Grant (EECBG). The grant, which is funded by the Recovery Act, has allowed the town to implement three energy efficiency programs that will save residents and the city money, while reducing energy waste. They accomplished this goal through a Programmable Thermostat Giveaway, a community wide CFL Distribution and the establishment of a Community Nitrogen Station.
The city -- which is ranked by CNN's Money magazine as one of the best small cities in America -- prides itself on having a "Green City" philosophy. This includes getting the community active and involved through energy conservation outreach and education.
After the city received its EECBG funds in 2009, it set to work organizing energy efficiency giveaway events for residents. During the three events that followed, St. Peters was able to distribute 600 Energy Star programmable thermostats and 60,000 CFL light bulbs, and convert 230 vehicles to nitrogen-filled tires.
In order to effectively distribute several hundred programmable thermostats, St. Peters organized a "drive-through" drop-off and collection point for residents to recycle their old thermostats and pick up their new energy-efficient ones free of charge. City officials estimate that each thermostat can save an average household $180 a year.
Additionally, each of the approximately 20,000 households in St. Peters received three CFL bulbs that were delivered to each home by a group of 50 volunteers and 30 city employees per day over two Saturdays last April. St. Peters was able to purchase 30,000 bulbs with EECBG funds. In addition, local utility company Ameren UE donated an additional 40,000 bulbs, while Cuivre River Electric donated 2,784 bulbs.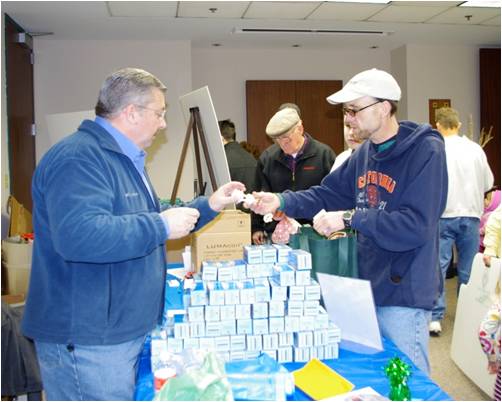 St. Peters residents pick up and trade in old lightbulbs for new, energy-efficient CFL bulbs. | Courtesy of the City of St. Peters
And if that weren't enough, St. Peters set a goal to convert 10 percent of the community's estimated 45,600 vehicles to nitrogen-filled tires. Officials predict this will save approximately 68,400 gallons of gasoline -- saving money and emitting less carbon dioxide into the air. While the City of St. Peters had already converted its 230 vehicles to nitrogen-filled tires as an energy saving fuel reduction measure, officials wanted to be able to provide residents with similar savings, and set up a nitrogen tire service (provided at no cost to residents) that filled the tires of 607 vehicles in the first six months of the project.
Thanks to the EECBG funding, St. Peters residents are seeing savings on their energy bills. Visit the Office of Energy Efficiency and Renewable Energy for more information about the EECBG program. For ideas on how you can save energy and money in your home, check out the Energy Savers website.