You are here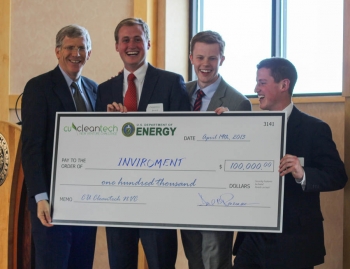 Acting Energy Secretary Poneman (far left) stand with a team of young entrepreneurs from Brigham Young University -- the regional winners of the National Clean Energy Business Plan Competition. | Photo by Ilya Pupko, ILAsoft.net.
What makes America the world's leader in innovation and entrepreneurship? It's our ability to enlist hard work and creativity to take bold ideas to new heights.
This unique combination of factors was on display when Acting Secretary Poneman traveled to Boulder, Colorado to announce the regional winners of the National Clean Energy Business Plan Competition, an Energy Department grant program that is working to inspire the next generation of entrepreneurs and scientists to tackle some of America's greatest challenges.
The winning team, "Inviroment" from Brigham Young University, created a technology that biodegrades all types of plastic found in landfills.  Besides the obvious bragging rights, the team took home $100,000 in prizes to help them turn their business plan into reality. Inviroment will also join the other regional champions for the national competition held in Washington, D.C., June 11-12, 2013.
2012 was the first year for the competition, but from the business plans developed last year alone, more than 50 startups have been incorporated, 55 patents and disclosures have been filed, and the private sector has provided more than $4 million in follow-on funding.
Last year's national winner NuMat Technologies, is now part of a consortium that includes Northwestern University, the Gas Technology Institute, and Westport Technologies. This group was recently awarded $1.5 million in funding through the Energy Department's Advanced Research Projects Agency-Energy to further develop natural gas storage technology for transportation solutions.
As Acting Secretary Poneman said, "The National Clean Energy Business Plan Competition allows the best and brightest to use their entrepreneurial skills to tackle the energy challenges our Nation continues to face." We all look forward to seeing the exceptional innovations and inventions that this year's crop of young scientists, engineers, and business people create.