You are here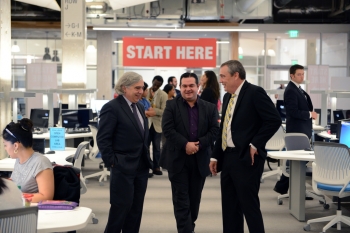 Energy Secretary Ernest Moniz, left, tours Austin Community College's ACCelerator, a high-tech learning lab that provides access to more than 600 computers for individualized learning and small group sessions. ACC's ACCelerator helps students focus on developing the in-demand technical skills needed in growing local industries, including in the energy sector. Secretary Moniz was joined by a group of students and school administrators. | Photo by Derek Posey, ACC.
Energy Secretary Ernest Moniz, center, asks questions to guide Tony DeVille, left, during a tour of the meter skid at Big Hill Strategic Petroleum Reserve near Houston, Texas. | Photo by Matthew Gaubert, Energy Department.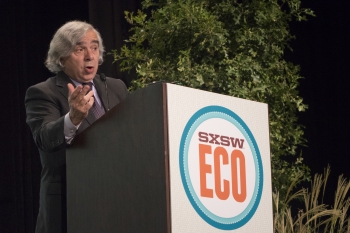 Energy Secretary Ernest Moniz delivers a keynote address at SXSW Eco in Austin, Texas, on October 8, 2014. | Photo by David Fox, SXSW.
October is National Energy Action Month -- and that means Energy Department officials have been busy crisscrossing the country to highlight the ways President Obama's plan to fight climate change is helping to grow the clean energy economy and strengthen our energy security.
Last week, Secretary Ernest Moniz visited Texas to participate in events on topics ranging from energy security to workforce training to the need to reduce our carbon emissions while developing all of our abundant energy resources.
The trip was anchored by the Secretary's keynote speech at the SXSW Eco conference in Austin on Wednesday. In his remarks, Secretary Moniz shared good news about the dramatic increase in adoption of four key clean energy technologies -- land-based wind, photovoltaic solar, LED lights and electric vehicles. He also emphasized the need to continue investments in the basic science and early-stage research and development that will ensure America is poised to develop the game-changing clean energy technologies of the future.
Other highlights from the Secretary's trip, which you can check out in the photo gallery above:
To keep up with Secretary Moniz, follow him on Twitter and Facebook.