You are here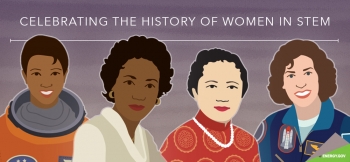 Many people find it a challenge to name a woman in STEM besides Marie Curie.
This Women's History Month, the Energy Department is working to fix that by highlighting the work of women who've made a difference in science, technology, engineering and math (STEM) fields throughout history.
Last year, we profiled the lives and contributions of scientist Rachel Carson, technologist Grace Hopper, engineer Edith Clarke and mathematician Emmy Noether. This year, we're specifically focusing on women of color, whose contributions often get overlooked or forgotten.
Every Thursday this month, we'll post a new illustrated portrait on our Instagram and ask our audience to guess who it depicts. On Thursday afternoon, we'll reveal her identity along with a blog profiling her contributions in either science, technology, engineering or math.
And that's not all we're doing for Women's History Month. On March 22, we're hosting a Twitter chat about the current status of women in STEM. We'll share other Women in STEM facts and information on Energy.gov and our social media accounts throughout the month.
Can't wait for Thursday? Check out Energy.gov/women for more stories of Women in STEM!