With more than 350,000 sold, plug-in electric vehicles -- also called electric cars or EVs -- are increasingly common on our nation's roadways.
If you're one of the many people who purchased your EV after hearing about their economic and environmental benefits from a co-worker, family member, friend or neighbor, we want to hear from you! During National Drive Electric Week (September 12-20) -- a nationwide celebration with more than 150 events across the country -- we're highlighting the stories of EV owners across the nation on social media.
Here's how to participate:
If you already own an EV, share your story, photos and videos using #ILoveEVs or #NDEW2015, the National Drive Electric Week hashtag.  If you don't own an EV, we still want to hear from you! Share what you like about EVs and why you may want to buy one.
Follow along on Twitter (@Energy and @EnergySaver), Instagram and Facebook (both the Energy Department and our Office of Energy Efficiency and Renewable Energy) to see stories and posts about EVs throughout the week.
Join our Facebook chat about EVs this Friday, September 18 at 2 p.m. ET, where both owners and non-owners of EVs can ask our experts questions and share their experiences.  To submit questions, email them to newmedia@hq.doe.gov or post them to the Energy Department Facebook page that day.
Check out our brand new EV Everywhere website to learn more about the Energy Department's efforts to increase the use and adoption of EVs through research, development, outreach and partnership building.  The new site helps drivers learn about available EV models, relevant incentives, how driving an electric vehicle can save you money, and how to charge your vehicle.  It brings together all of the Energy Department's EV-related tools into a single website designed just for consumers.  
Oh, and don't forget -- we're still accepting submissions for our EV Everywhere logo contest on Challenge.gov until September 25.  The new website might have your design on it soon! 
We look forward to seeing and listening to your EV stories as well as answering your questions.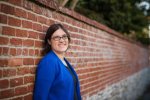 Shannon Brescher Shea
Shannon Brescher Shea (shannon.shea@science.doe.gov) is the social media manager and senior writer/editor in the Office of Science's Office of Communication and Public Affairs.
more by this author