You are here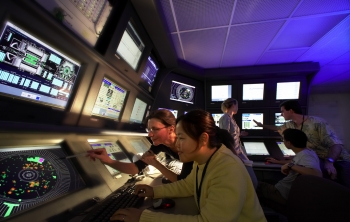 Stanford Physics Professor Pat Burchat and student Ho Jeong Kim in the BaBar main control room at the SLAC National Lab. | Photo courtesy of the SLAC National Accelerator Lab.
For over 100 years, Stanford University has advanced knowledge and transformed lives through innovative academic programs, research and outreach. The school is recognized internationally as a top research university, and its faculty and staff include Nobel Laureates, Enrico Fermi Award recipients, Ernest Orlando Lawrence Award recipients and Pulitzer Prize winners.
So it probably doesn't come as a surprise that the Energy Department's SLAC National Accelerator Laboratory is operated by the incredible researchers at Stanford University. This national lab is a leader in exploring the frontier questions of science (focusing on the structure and dynamics of matter and the properties of energy, space, and time!) and has been the site of many award-winning discoveries.
To learn more about the research projects at Stanford and onsite at SLAC, visit the university's website. The education offered at Stanford is helping propel the next generation of innovative discoveries in science, engineering, math and other technical disciplines. Each month, the Office of Scientific and Technical Information (OSTI) features a university connected to Energy Department scientific research programs. Stanford University was featured as the November .EDUconnections Spotlight. Visit the website for examples of universities that are supporting and advancing scientific research and discovery and learn about their accomplishments in science and technology.