Amid the Mayacamas Mountains in northwest California sits the world's largest geothermal field: The Geysers.
Since 1960, steam from the 45 square mile field spanning Lake and Sonoma counties has been extracted to drive turbines and generate baseload renewable electricity.
Fifty years later, Houston-based Calpine Corporation operates 15 geothermal plants at The Geysers.
These plants generate up to 725 megawatts (MW) of clean energy daily, enough to power a city the size of San Francisco, making Calpine America's largest geothermal power producer. 
"We are the largest independent wholesale power company in the United States in terms of power produced. Yet we have the smallest greenhouse gas footprint," says Mike Rogers, Calpine's regional vice president at The Geysers.
Renewable energy: 24/7
Rogers anticipates that The Geysers - and Calpine - will continue to provide sustainable and reliable power as The Golden State works towards its goal of generating 33 percent of its electricity from renewable sources by 2020.
"The around-the-clock availability of geothermal energy sets it apart from other renewable resources and makes The Geysers an environmentally-valuable baseload generation asset," he says.  Baseload power plants generate energy at a constant rate and meet a given region's continuous energy demand.
A new report by The American Council On Renewable Energy (ACORE) highlights the importance of geothermal power in California. In 2009, the state produced 13,023 gigawatt hours of energy through geothermal resources, more than any other renewable except hydropower.
Despite the rise of geothermal power production in California, Calpine's road to success at The Geysers has not been a straight one.
Five years ago, sinking fuel prices and a $22 billion debt caused Calpine to file for Chapter 11. But the company is now on solid footing after employing some innovative financing techniques and securing longer-term power contracts.
A first: Wastewater to clean energy
Calpine's re-emergence has enabled the company to focus on developing innovative geothermal technologies at The Geysers.
In the late 1990s, Calpine teamed with Lake County Sanitation District and Northern California Power Agency to build a 29-mile pipeline that currently pumps eight million gallons of recycled wastewater each day to recharge naturally-occurring steam reservoirs beneath the earth's surface. 
In 1989, Calpine purchased an interest in a 20 gigawatt facility at The Geysers. Within 10 years the company bought nearly all plants. Now, the Geysers operation provides 24 percent of California's renewable energy, 40 percent of America's geothermal power and employs 350 workers.
According to Rogers, the project had two distinct advantages: providing "an environmentally-sound wastewater discharge solution for neighboring cities, while also increasing the long-term productivity of The Geysers' resource."
Its success led to Calpine's next wastewater recycling effort. "Soon thereafter, we developed a similar project with the City of Santa Rosa," Rogers says.
The Santa Rosa project boosted geothermal energy production at The Geysers by about 85 MW and has a significant environmental impact for the city. The recharge pipeline "uses an average of 12 million gallons of wastewater a day," notes Rogers.
Two projects, one goal: geothermal expansion
Rogers sees significant potential for expansion of geothermal energy at The Geysers as the company works on two projects partially financed by the Department of Energy's Geothermal Technologies Program (GTP): an innovative exploration project and an Enhanced Geothermal System (EGS) demonstration.
In the exploration project - a portion of which received $5 million in Recovery Act funds - Calpine and Lawrence Berkeley National Laboratory are partnering to create a 3-dimensional geologic model of Caldwell Ranch in Sonoma County that could reveal details about new steam reservoirs. This tool could be pivotal in future exploration to characterize geothermal resources.
After the model is built, Calpine seeks to re-open selected wells. The wells will then be deepened for injection and stimulated using treated wastewater from a new connection to the available Santa Rosa Geysers Recharge Pipeline.
"Steam from these wells would be piped to Calpine's proposed Units 25 and 27, or the existing Eagle Rock Power Plant for use in electric generation," Rogers says of the well project.
Calpine is also working on an Enhanced Geothermal Systems (EGS) project at the northwest Geysers with subsidiary CPN Wild Horse, Lawrence Berkeley National Laboratory and the U.S. Geological Survey.
The project – which received almost $5.5 million from GTP in 2008 – includes injecting cold water into one well and producing high temperature steam in the other.
The two projects illustrate Calpine's commitment to geothermal technology, Rogers says. "Our research programs with Lawrence Berkeley National Laboratory exemplify Calpine's diligence in expanding the potential of geothermal energy in our nation's clean energy future."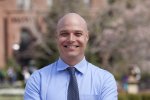 Paul Lester
Paul Lester is a Digital Content Specialist in the Office of Public Affairs. Paul was born in Ohio but spent most of his life in Florida, where he worked as news researcher/archivist and online editor for the Orlando Sentinel.
more by this author