You are here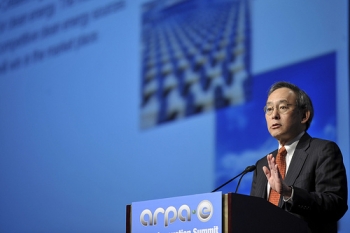 Secretary of Energy Steven Chu speaking at the 2011 ARPA-E Energy Innovation Summit. | Energy Department file photo.
When the third annual ARPA-E Energy Innovation Summit convenes in Washington, DC, next week, key innovators from across the country and around the world will meet to share ideas for solving our greatest energy challenges.
While recent ARPA-E award winners and finalists will be on display at the Technology Showcase, the keynote speakers will offer a personal perspective on innovation in the energy sector.
One of the highlights of the conference will be a "fireside chat" between Bill Gates, chairman of Microsoft Corporation, and Secretary of Energy Steven Chu. Under Gates' leadership, Microsoft has led the computer industry with investments in research and development each year. Check Energy.gov after the Summit for a video of the conversation that you can watch, share, and offer your perspective on.
Former President Bill Clinton will deliver remarks on Wednesday. As the 42nd President of the United States, President Clinton oversaw the longest period of peacetime economic expansion in U.S. history and the creation of more than 22 million jobs. 
We'll also hear from Dr. Arun Majumdar, Director of ARPA-E, and Dr. Susan Hockfield, President of the Massachusetts Institute of Technology (MIT) and co-chair of the President's Advanced Manufacturing Partnership.
From the private sector, we will be joined by Ursula M. Burns, Chairman and CEO of the Xerox Corporation; Frederick W. Smith, Chairman, President and CEO of the FedEx Corporation; and Lee Scott, chairman of BDT Capital and former CEO of Walmart. Each of these individuals has been an innovative leader in their field and will offer their own perspectives on what it takes for innovators and entrepreneurs to succeed in the clean energy economy.
The Summit will also highlight the winning startup companies that competed in DOE's "America's Next Top Energy Innovator Challenge," which leverages cutting-edge technologies from the Energy Department's national laboratories to support new startup companies across the country. The Secretary will present the winners with awards on Monday during the luncheon, and you can learn more about their innovations at their booth in the Technology Showcase.
You can find more information on the ARPA-E Energy Innovation Summit and the full program for the three-day conference here.