You are here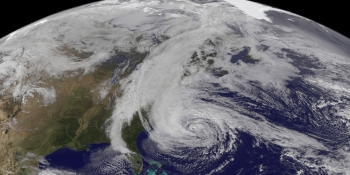 Because of climate change, more frequent and intense weather events -- like this hurricane over the Atlantic Ocean, viewed from a satellite -- are becoming more common. Finding ways to reduce global emissions could help.
After a landmark U.S.-China climate announcement and combined pledges of nearly $10 billion to the Green Climate Fund, there is strong momentum leading into the annual United Nations Framework Convention on Climate Change (UNFCCC) Conference of the Parties (COP 20) in Lima, Peru. At COP 20, climate change negotiators will meet to help build the framework for a global agreement to combat climate change. The private sector, civil society, government representatives and others will meet on the sidelines to collaborate on what more can be done now to achieve a global low-carbon economy.
The U.S. Department of Energy is not directly involved in international climate negotiations, but we play a critical role in implementing the United States' domestic commitments, including parts of President Obama's Climate Action Plan. Our focus on ambitious policies and innovative technologies positions the U.S. for the deep decarbonization necessary to address climate change. In the long term, this ensures we are competitive in the clean-energy marketplace. In the near term, we have to keep the lights on by ensuring the reliability of our energy system while reducing global emissions.
We also work with partners around the world on clean energy technologies and policies, which help lay the foundation to achieve a global low-carbon market transformation. Not only have we had extensive bilateral climate change efforts with more than 50 countries around the world -- including key countries like China and India -- we are also involved in the Clean Energy Ministerial (CEM), a collaboration to accelerate the transition to a clean energy economy among the world's largest economies and major emitters. At the COP, we and our CEM partners will highlight CEM's solid record of achievement to date, including:
Through cooperative work facilitated by the Super-efficient Equipment and Appliance Deployment (SEAD) initiative, India became the first country in the world to comprehensively set quality and performance standards for LED lighting. The standards could save as much as 277 Terrawatt hours of electricity and avoid 254 million metric tons of carbon dioxide emissions cumulatively between 2015 and 2030, the equivalent of avoiding 90 coal-fired power plants.
 
The Clean Energy Solutions Center is a first-stop resource for clean energy best practices, data, analysis tools and expert policy assistance. Through its Ask-An-Expert service, the Solutions Center has responded to more than 130 requests for policy assistance from nearly 70 countries. This resource supported Caribbean Community (CARICOM) states in setting renewable energy targets: 20 percent in 2017, 28 percent in 2022 and 47 percent in 2027.
 
A report produced by the Electric Vehicle Initiative (EVI) assisted the implementation of India's National Mission on Electric Mobility, which targets deployment of 5 to 7 million hybrid and electric vehicles in the country by 2020. The report analyzed the real-world costs, benefits and environmental impacts of vehicle electrification in Indian cities. EVs in India could avoid the use of 4.8 billion barrels of oil and the emission of 270 million tons of carbon dioxide by 2030.
With momentum building for a global climate agreement in Paris in 2015, there is even more opportunity to collaborate internationally on energy policies and technology development. This collaboration will open markets for new clean energy technologies, help countries achieve their nationally-determined climate and energy goals, and catalyze action for even greater success in the future. 
The Department of Energy will host a panel discussion on the Clean Energy Ministerial in the U.S. Center at COP 20 on Tuesday, December 9, from 1:30 - 2:30 p.m. EST. The event will be webcast live on YouTube.