Engineers at the Energy Department's Bonneville Power Administration have cut the cost of upgrading the grid with innovative software that helped them build cheaper but sturdier towers for new high-voltage transmission lines.
Their new towers are stronger but use less steel. They better withstand winds and storms but are easier and faster to assemble. They're so much sturdier that some power lines may now require fewer towers per mile, reducing their environmental footprint and price, which in turn helps minimize costs for electric consumers.
BPA operates about three-fourths of the high-voltage transmission lines in the Pacific Northwest and is building new transmission lines to handle rapidly growing amounts of wind energy.
Engineers reassessed their tower designs when the agency started planning its new McNary-John Day transmission line, now under construction among wind farms along the Oregon-Washington state line. They looked for ways to tweak angles or move braces within the steel shapes that make up the towers so they would require less steel but retain their structural integrity.
"The most challenging part in tower design is the infinite number of configurations. You can move a piece of steel in one place and end up with problems in another," says Structural Design Manager David O'Claire. "It's trial and error."
They had help from a computer design program developed by David Hesse, a BPA structural engineer and self-taught software designer. His Advanced Tower Analysis and Design System lets engineers evaluate tower configurations in one day that might otherwise take weeks or months.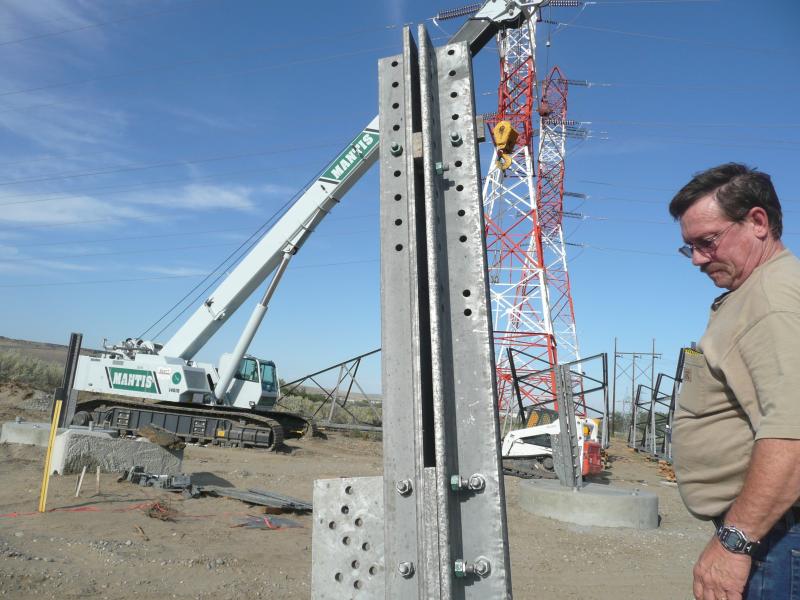 The cross shape of this tower footing is saving BPA millions. It's easier and cheaper to manufacture than the original design. | Photo courtesy of Bonneville Power Administration. 
The program analyzes whether a tower can hold up in worst-case scenarios such as 100-mph winds and heavy ice, or if the tower next to it fails. It also predicts its cost so engineers can zero in on the design with the best price.
Engineers developed one double-circuit and three single-circuit towers BPA can use again and again. They are about 20 percent lighter than the originals because they use less steel, which also saves BPA as much as $300,000 per tower. They're also cheaper to manufacture, transport and assemble. That adds up to more than $18 million in savings on two new transmission lines the agency is building.
With fewer towers required per mile, the savings will grow quickly and easily cancel out the $80,000 cost of the new designs. For instance, crews beginning construction of BPA's new Central Ferry-Lower Monumental this summer will have 22 fewer towers to build. Each one is cheaper to manufacture, transport and assemble.
The modification of a single piece in the largest of the new towers – a double-circuit tower that holds two lines – will save BPA about $250,000 per tower.
"There are actually more pieces in the design now, but they are smaller and the tower weighs less overall," says civil engineer Juan Nuño.
BPA will use these new tower designs if it moves forward with other proposed transmission projects. More savings are in store.