You are here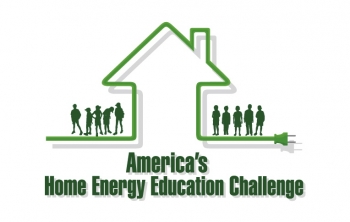 It's that time again: Back to school season is officially here! Time for students to prepare for the new experiences and challenges that they will encounter throughout the upcoming school year.
One such challenge—from the Energy Department in partnership with the National Science Teachers Association (NSTA)—aims to tap into the creativity and enthusiasm of students across the country.
America's Home Energy Education Challenge is designed to educate students in grades 3-8 about the benefits of energy efficiency, and motivate them to encourage their families and communities to put energy and money-saving ideas learned in the classroom into action at home.
"This exciting competition is designed to inspire the next generation of energy leaders to take simple and affordable steps today that will save money and get them thinking about energy issues at an early age," said Energy Secretary Chu.
There are two ways for teachers, students and families to participate: The first is through the Home Energy Challenge and the second is through the Energy Fitness Award. Each is designed to encourage learning about science and energy with the added benefit of saving money by saving energy. The Home Energy Challenge encourages students to work with their families to reduce home energy use—monitoring energy savings over a three-month period. Schools with the highest number of points earned for reducing household energy usage, student participation, creativity and overall quality of their local energy savings program qualify for awards.
The Energy Fitness Award is a separate individualized educational challenge that students can participate in at any time. Just as the President's Physical Fitness Test encourages students to lead active healthy lives, the Energy Fitness Awards challenge students to become smart energy users. Each student who successfully completes the Energy Fitness Award quiz will receive an Energy Fitness Badge.
Participating schools and classrooms, as well as Home School networks, will compete within 11 regions for more than $200,000 in prizes distributed at the regional and national levels. Official registration for the Home Energy Education Challenge begins today, August 15, and ends on October 7, 2011. Students are encouraged to register with their teachers by September 30, 2011 to take advantage of the full energy savings period.
For more information, visit the Home Energy Education Challenge website. And for more on how saving energy saves you money, visit the Energy Savers and Kids Saving Energy pages.