You are here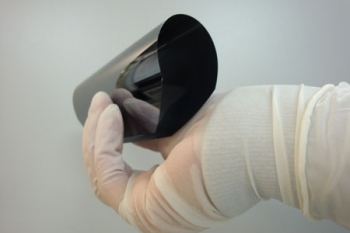 Using SiGen's new cutting process, less material is wasted in creating solar products like this, a breakthrough that is expected to help make solar power more affordable. | Photo courtesy SiGen
Silicon Genesis is a San Jose, Calif., company that is advancing the field of solar energy by developing a process that will virtually eliminate all waste when cutting materials needed to implement solar technology.
Solar wafers, the circular solar cells used to make products that can harness the sun's renewable energy, are traditionally cut with a wire saw. In that process, a whopping 50 percent of the crystalline material is lost. But what if there was no waste? SiGen was innovative enough to ask that question, and, thanks in part to a $2.2 million Recovery Act grant, they have an answer in a new cutting method.
"The advantages achieved by our cleaving process will allow companies to better withstand the competitive market pressures of other emerging technologies," Francois Henley, SiGen's CEO, says. "With a 15-percent average price decline expected with crystalline modules, the advantage of the cleaving approach is not merely as a manufacturing tool but also as a financial tool for providing a sustainable cost."
The company's PolyMax technology has been proven in a laboratory setting with a prototype production system. SiGen will soon deploy a second test system to the field and hopes to use its additional stimulus funding, awarded by the U.S. Department of Energy, to commercialize the technology in the near future. For consumers, all of this means that installing solar panels on their own homes could become a more realistic option as the reduction in waste from SiGen's methods will drive down prices.
"Sometimes it's less-apparent for an end user how this technology can affect them because they only see the final solar panel product and never the solar wafer that in fact the solar cells and modules are made from," Henley says. "The bottom line is a more-affordable solar panel; and we believe this will reduce the cost dramatically so that, downstream, panels can be manufactured at a lower cost."
In fact, SiGen estimates that, using their cutting method, the average cost of solar technology should be reduced by about 40 percent when compared to traditional approaches. As the U.S. continues moving forward in the clean energy economy, commercializing affordable renewable energy systems is an important step in achieving sustainability and creating green jobs in American communities.