You are here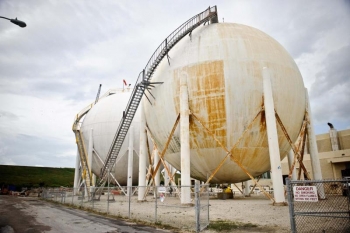 Existing Miami-Dade county water treatment facility.
Officials from Miami-Dade County and the U.S. Department of Energy were on hand Wednesday, October 13th to formally break ground on an innovative project that will help improve the energy efficiency of one of the county's major water treatment facilities.

The project will upgrade and expand the existing power generation system at the water plant which generates electricity from digester gas produced at the plant. Landfill gas, which is produced from the Solid Waste Department's South Dade Landfill, will be collected and piped across a canal to the water plant where it will be mixed with digester gases. By combining landfill and digester gases, the county will increase the amount of self-generated electricity, and reduce the county's consumption of electricity generated from fossil fuels.

Miami-Dade officials say the $15 million project would not be possible without an initial $1.7 million from the Energy Efficiency and Conservation Block Grant (EECBG) Program.
Once completed, this project has the potential to produce 63,800 KW per year and the collected landfill gas will no longer have to be flared. In addition, it is estimated that this project will generate 40 jobs in the local economy.

"The Methane Sequestration Project is our largest alternative energy project to date. It illustrates how partnerships between residents, businesses and government can ensure we are doing what is necessary for a sustainable future," said Miami-Dade Mayor Carlos Alvarez.

The Methane Sequestration Project is just one of 13 Miami-Dade EECBG projects, which includes a mix of energy management projects, citizen outreach and education, sub-grants, demonstration programs, construction projects, and incentive programs.

In the first year of the EECBG grant program, Miami-Dade County spent over $4.3 million, or 35 percent of grant funds. This exceeds DOE's milestone of spending 20 percent by September 30, 2010. Other accomplishments include: installation of a cool roof on a Homestead library, hosting Home Energy Savings Workshops for residents in each of the 13 commission districts, providing grants for energy efficiency retrofits for community based organizations and non-profits, issuing energy retrofit loans to local businesses and the installation of solar panels on park recreational buildings.
Andy Oare is a New Media Specialist at the Department of Energy.