You are here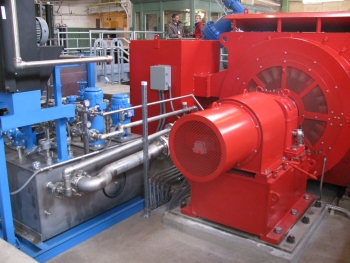 The Boulder Canyon Hydroelectric Facility's new, highly-efficient turbine. | Photo courtesy of the city of Boulder, Colorado.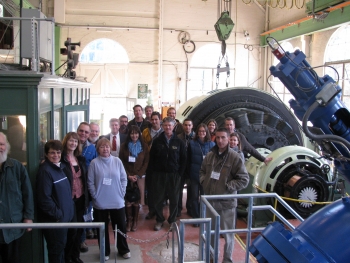 City of Boulder employees celebrate the completion of the Boulder Canyon Hydroelectric Modernization project. | Photo courtesy of the city of Boulder, Colorado.
In the City of Boulder, Colorado, a newly upgraded hydropower facility is generating clean, renewable electricity for thousands of area residents and businesses.
Originally built in 1910, the completely modernized Boulder Canyon Hydroelectric Facility will provide 583,000-megawatt hours of renewable energy -- enough to power about 1,000 homes each year. To optimize performance at Boulder Canyon, two older turbines have been replaced by a single, highly-efficient unit -- capable of generating 30 percent more energy than the previous turbine in operation. Other improvements include removal and replacement of old transformers and a storage tank, enhanced lightning protection, modern wiring and the installation of remote operation equipment.
The Boulder Canyon modernization project is part of a larger effort to optimize the performance of America's hydropower infrastructure. There are approximately 2,400 hydropower dams in the U.S. -- many of which have not undergone a significant upgrade in decades. Bringing our hydropower systems into the 21st century is one of the best opportunities we have to increase our supply of clean energy and power the American economy.
The upgrades to the Boulder Canyon Hydroelectric facility were supported by a $1.18 million investment from the Energy Department. For a more detailed look at Colorado's commitment to hydropower, watch this video on Boulder's Hydroelectric Program.