You are here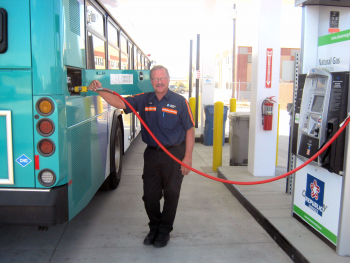 Working with Republic Services, the city of Boise and Valley Regional Transit, Treasure Valley Clean Cities built four compressed natural gas (CNG) fueling stations that allowed all three organizations to transition to CNG vehicles. | Photo courtesy of Valley Regional Transit.
This article is part of the Energy.gov series celebrating the 20th anniversary of the Energy Department's Clean Cities initiative by highlighting the work of some of the community-based coalitions that are helping reduce our nation's petroleum consumption in transportation.
Last year, Idaho's Valley Regional Transit carried 1.4 million riders, predominantly on buses powered by compressed natural gas (CNG), through downtown Boise, the nearby cities of Nampa and Caldwell, and between neighboring counties. But back in 2009, the transit authority faced serious fiscal burdens, including rising diesel prices, and was considering major cuts to its intercounty services. Thanks to help from the local Clean Cities coalition, the transit authority found a way to maintain its service while reducing harmful emissions.
Valley Regional Transit has been operating buses that run on alternative fuel since the early 1990s to improve Boise's air quality, but limited CNG fueling infrastructure posed challenges to further expanding its alternative fuel fleet. For example, the lack of CNG stations outside of Boise made it impractical to convert the buses on the Nampa, Caldwell and intercounty lines to run on CNG. Fortunately, the transit authority is a long-time partner of the Treasure Valley Clean Cities coalition. Inspired by ongoing outreach conversations with Clean Cities coordinator Beth Baird, the transit agency's board committed in 2009 to switch the entire fleet to CNG once it had the funding to do so.
With the coalition's help, the transit agency fit together all of the necessary pieces to expand its CNG-powered fleet of buses. First, Valley Regional Transit received funding from the U.S. Department of Transportation (DOT) through the American Recovery and Reinvestment Act to purchase new buses and improve local fueling stations. While the transit agency wanted to purchase CNG buses instead of diesel with this funding, it still lacked the needed infrastructure to fuel additional CNG buses.
Around the same time, the Treasure Valley Clean Cities coalition received a $5.5 million Clean Cities Recovery Act award from the Energy Department, backed by $6.8 million in cost-share from local refuse hauler Republic Services. Working with Republic Services and the city of Boise, Treasure Valley Clean Cities put 30 heavy-duty CNG haulers and three light-duty CNG service vehicles on the road. They also built four CNG stations -- including a station close to Valley Regional Transit's Nampa and Caldwell bus lines. Learning about the new station was "music to our ears," said Valley Regional Transit's Mark Carnopis. To maximize the station's usefulness, the coalition, transit authority and Republic Services worked together to ensure it could accommodate the size and needs of the buses.
Since the station was installed in 2011, the transit agency has substantially expanded its CNG fleet, purchasing 21 CNG buses through the U.S. DOT award and operating all five intercounty lines on CNG. It also plans to transition its 13 remaining buses to CNG. The low cost of CNG fuel has allowed the transit agency to avoid cutting service to a number of areas, while reducing smog-forming pollution compared to its previous buses. "We were able to preserve nearly all of our intercounty service," said Carnopis. "This [route] is our bread and butter… People love that service."
In addition to the transit agency's success, Republic Services has also added 34 more CNG-powered refuse haulers with private funding and expects to convert its entire local fleet of 120 trucks to run on CNG by 2014. The expanded availability of CNG has also inspired a number of other local fleets to purchase CNG vehicles -- proving that investment in well-placed energy infrastructure can enable multiple companies and organizations to transition to alternative fuels. In fact, Clean Cities coalitions have leveraged competitive funding from the U.S. Department of Energy and technical assistance to displace more than 4.5 billion gallons of gasoline and diesel fuel nationwide since 1993.