You are here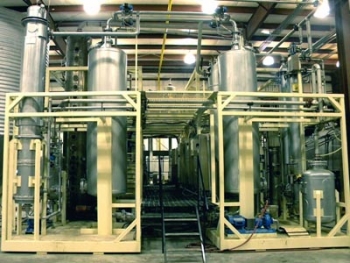 Minnesota-based Easy Energy Systems sells small-scale, easy-to use biorefineries. The company expects to create 100 jobs because of new orders. | Photo Courtesy of Easy Energy Systems |
Imagine a biorefinery small enough to fit in your town's department of public works parking lot – and able to be expanded unit by unit.
That modular, scaled-down biorefinery could still produce up to 5 million gallons of ethanol per year -- using not only scraps, cellulosic feedstocks and energy crops -- but also wastepaper from the town.
The ability to convert wastepaper into a fuel through a self-contained, modular automatic cellulosic ethanol production system (MEPs) expands the opportunity for biorefinery use.
"With these systems, we can start getting to places like Hawaii or even Alaska, who might not be able to grow certain feedstocks, but every region certainly has waste paper," says Jayden Grupe, operations manager of Welcome, Minn.-based Easy Energy Systems, manufacturer of the MEPs.
A small-scale biorefinery
Think a building block-like biorefinery –small, using parts and pods built in a factory and assembled in a short time on site. MEPS not only have a smaller footprint than other biorefineries. They are also designed to be used onsite locally with smaller amounts of products – and different types of non-food-based biofuels, including waste paper and various other scrap feedstock.
Feedstocks are fed into the MEPS, where it is ground into small particles, cooked to kill bacteria and supplemented with advanced enzymes and chemicals based on the type of feedstock.
Yeast is added and the material ferments. After a computer generated-fermentation time, the material is distilled and dried to be used as ethanol. The owner of the MEPS can then use or sell the ethanol, says Grupe.
MEPS comes most often in one of three sizes: 1 million gallons per year, 2 million gallons per year or 5 million gallons a year.
According to Grupe, a 1 million gallon per year facility would be able to fuel approximately 1,320 vehicles averaging 20 miles per gallon, traveling 15,000 miles for one year.
In the last year, the company has quoted 800 of these systems across the country and several internationally, and is in the final stages completing several of the orders. The system's starting cost is around $3 million, and increases depending on size.
Simply switching feedstock
If one day, a customer decides they want to use switchgrass instead of wood waste, it's possible to do so by replacing a minimal number of components in the system.
By using waste products—whether it's paper from a large office park in Pennsylvania or sweet potato waste from Idaho—MEPS will help eliminate waste without changing the markets on feedstock.
"As technology improves or changes, we can take out outdated pods and put in new technologies," says Grupe. "We look to replace only a small part of the process, and we don't have entire systems going obsolete."
MEPS are ideal for those interested in producing ethanol on a smaller scale. "Because we're factory built, we can be more economical for smaller quantities….those plants that aren't producing enough waste to justify a 50 million gallon-plus facility, but have enough to justify a 1 or 2 million gallons," says Grupe.
These systems also cut costs for feedstock scrap transportation. Grupe explains that if a farm wants to contribute stover or feedstock to a biorefinery, they could have to transport the feedstock hundreds of miles. Now, with a MEPS, the farm could have their own biorefinery and cut transportation costs all together.
"Transporting these feedstocks keeps getting more expensive, and this has really been the Achilles' Heel of cellulosic ethanol. If you can eliminate this cost and process, it brings this fuel that much closer to a reality," says Grupe.
Growing more than crops
Within the next year, Grupe is expecting the company to expand from 15 employees to more than 100. Eventually, he sees the company needing as many as 450 employees. For every system ordered, Easy Energy Systems can employ 20 to 30 people for up to six months.
"We really see a market for these systems and hope the business will continue growing quickly," he says. "Each system ordered really has an economic impact."