You are here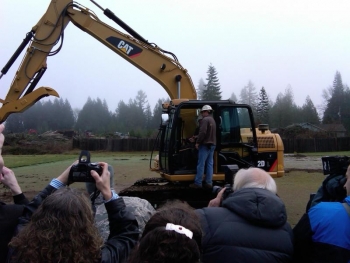 Oregon Governor Kulongoski maneuvers a backhoe to break ground at the Vernonia school site. | Department of Energy Image | Photo by Joel Danforth, Contractor | Public Domain |
A new school in Vernonia, Oregon is beginning to take form as the town recovers from not one, but two "once in a lifetime" floods which ravaged the downtown area built along the Nehalem River. Among the flooded buildings were the local schools for students in kindergarten through 12th grade.
The site for the new integrated K-12 school is in the northeastern portion of town (and about 50' higher in elevation from the old school) and is using a combination of state, Federal and non-profit funds -- paired with a municipal bond measure passed by the town's voters recently.

Josette Mitchell, the Mayor of Vernonia, says that the new school system currently under construction "is essential to the vitality of our community. This gives the children of our community the opportunity to have a safe, new, green school high above the floodplain -- which will help them succeed in their educational careers."
The new school is going to be highly-energy efficient and will be heated by a biomass boiler paid for by a $1 million grant to the State of Oregon from the U.S. Department of Energy's Energy Efficiency and Conservation Block Grant (EECBG) program, funded by the Recovery Act.

The boiler system will have a capacity of up to 3 Million Metric British Thermal Units (MMBTU) per hour and will be fueled by locally derived wood-pellet feedstocks. This latter point is important: the system will not rely on expensive fossil fuels imported from other states and countries, and instead will use biomass fuel produced within miles of the school -- wood left on forest floor after logging.

Mayor Mitchell says that aside from the excitement surrounding the school itself, the community "is excited about the bio-mass boiler that will reduce school energy costs while utilizing a local resource not typically used to its potential."

For more information about the EECBG program, visit the Office of Energy Efficiency and Renewable Energy website.