You are here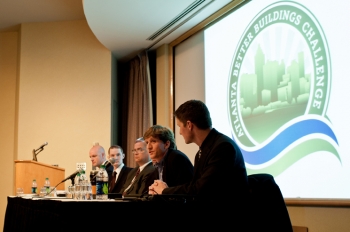 This is the Atlanta Better Buildings Challenge Breakout Session Panel with representatives from the City of Atlanta Office of Sustainability, Southface, the U.S. General Services Administration, and two Atlanta BBC partner organizations. | Photo courtesy of Fred Perry Photography
The energy to operate the buildings where we work, shop, and go to school costs about $200 billion every year. And on average, 30 percent of this energy is wasted. By rallying corporations, universities, and municipalities to make significant commitments to energy efficiency, we can save billions in energy costs, create jobs and reduce waste.
 
That's the goal behind the Better Buildings Challenge -- part of President Obama's Better Buildings Initiative -- which aims to make America's commercial and industrial buildings at least 20 percent more efficient over the next decade. To achieve this aggressive target, the Energy Department is working with public and private sector partners like cities or companies that commit to being leaders in energy efficiency. These partners will implement energy savings practices that reduce energy waste and energy bills, showcasing effective strategies and the results of their efforts.
Over the past few weeks, two of the initial Better Buildings Challenge partners -- Lend Lease, a Corporate Partner, and the City of Atlanta, a Community Partner -- held events to kick off their partnership in the Better Buildings Challenge.   
Lend Lease, a leading integrated property and infrastructure solutions group, held their kick off event on October 12 in Beaufort, South Carolina. The company is committed to reducing its consumption by at least 20 percent within the next five years for its Military Housing Privatization Initiative (MHPI) portfolio, creating local contracting jobs at 12 stateside military installations. As part of the challenge, Lend Lease pledges to retrofit approximately 40,000 homes for military families, 800 historic structures, 19 office buildings, and 19 community centers, encompassing more than 65 million square feet of real estate nationwide.  
 
In Atlanta, over 1,000 real estate professionals and community stakeholders gathered on November 3 to officially launch the Atlanta Better Buildings Challenge at the city's annual Downtown Development Day.
 
Atlanta's Better Building Challenge aims to reduce energy and water consumption across a portfolio of buildings in the city's downtown commercial business district by at least 20 percent by 2020. These strategic investments in energy efficiency will support economic growth and create significant utility cost savings.
 
With commitments from four prominent buildings downtown totaling over 13 million square feet, Atlanta is on its way to reaching its phase one goal to enroll 20 buildings into the program by December 1, 2011.
 
Lend Lease and the City of Atlanta are helping to pave the way for the take-off of innovative, energy-efficient building technologies. Working together, the public and private sectors can help achieve President Obama's goal to invest in new technology, create American jobs, and save businesses nearly $40 billion annually in energy costs.