You are here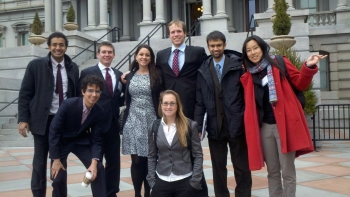 Pictured here are eight of the 10 members of MIT's team who competed in last year's Better Buildings Case Competition. From left to right: Neheet Trivedi, Michael Zallow, Patrick Flynn, Elena Alschuler, Kate Goldstein, Brendan McEwen, Nikhil Nadkarni and Nan Zhao. Not pictured: Christopher Jones and Wesley Look. | Photo courtesy of Elena Alschuler.
After competing in the inaugural Better Buildings Case Competition last year, Elena Alschuler is once again getting ready for the competition. But instead of devising innovative solutions to commercial building efficiency that can be replicated by businesses, Alschuler is now responsible for writing the competition's case studies as an Energy Department employee. 
As part of the MIT team, Alschuler helped develop proposals for two real-world case studies of organizations -- the District of Columbia and Cassidy Turley -- that were looking to improve the energy efficiency of their operations. After presenting their ideas before a panel of judges, the MIT team was recognized for both of its proposals -- a feat that no other team achieved and one that the MIT team credits to its diverse academic background. "Our team was made up of a really bright, passionate group of people," said Alschuler. "We all had such different backgrounds, so we all brought something unique to the table in terms of our skill set."
The District of Columbia -- impressed with the team's recommendations for tools the city should use to redevelop the Walter Reed Army Medical Center site -- invited students to present their ideas to a larger group of stakeholders in the Mayor's office. As the district moves forward with the Walter Reed site, the technical and financial models the students developed will help the District of Columbia become a national sustainability leader.
The Better Buildings Case Competition also provides the next generation leaders with the skills and experience necessary for a career in clean energy. The ideas Alschuler developed for improving the efficiency of a multi-tenant office building in the Cassidy Turley case study helped her stand out -- ultimately leading to her job in the Energy Department's Building Technologies Office. In addition to her work on the case competition, Alschuler also helps develop tools to collect and analyze data on building energy performance, including the Buildings Performance Database.
As a veteran competitor, Alschuler has this advice for the teams taking part in the second annual Better Buildings Case Competition: "Take the opportunity to get to know your peers from other disciplines and schools because they will be friends and colleagues for years to come." On March 8 at the White House campus, 14 university teams from across the country will present their creative ideas to four case studies that cover common energy efficiency problems. To learn more about this year's competition, visit the Better Buildings Case Competition website.