You are here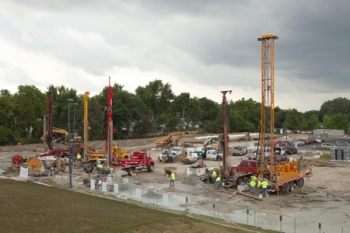 Workers drill boreholes for a geothermal heating and cooling system at Ball State University's campus in Muncie, Ind. | Photo courtesy of Ball State University
Ball State University is building America's largest ground source district geothermal heating and cooling system. The new operation will save the school millions of dollars, slash greenhouse gases and create jobs.
The project will also "expand how America will define the use of geothermal technology on a district-wide scale," and provide health benefits such as reducing asthma rates for Indiana residents, says Philip Sachtleben, Ball State's associate vice president of governmental relations.
The system will cool and heat nearly 50 buildings on Ball State's Muncie, Ind., campus, replace four coal-burning boilers and span more than 600 acres. The switch to geothermal will save the university $2.2 million in fuel costs and cut its carbon footprint in half.
University officials hope the project's success will convince colleges and businesses owning district heating and cooling systems throughout the country to use geothermal technology and show leaders the monetary and environmental benefits of renewable energy. "The idea of getting energy from the soil beneath us is an innate solution," Sachtleben says. "We think this can be applied in many places."
Ball State's transition to geothermal energy makes economic sense. The university's aging boilers burn through 36,000 tons of coal per year, costing $3.2 million. "When this is done, we will not have to buy any more coal," Sachtleben says. Although Ball State will spend additional money to power the system's equipment, the school still expects to save $2.2 million a year on energy. The savings will enable Ball State to spend more on the university's needs and "reduce energy costs for educating students," Sachtleben says.
The geothermal system will be emission-free, fulfilling a pledge by Ball State President Jo Ann Gora to dramatically reduce the campus carbon footprint. "The greenhouse benefits are in spades," Sachtleben says. Tons of nitrous oxide, particulate and sulfur dioxide emissions will be eliminated, providing health benefits to Indiana residents. "Asthma rates should be reduced," Sachtleben says.
Engineers expect Ball State's energy efficiency to skyrocket due to the project. An indicator called the coefficient of performance (COP) will jump from .62 to 7.77, meaning "for each unit of energy we put in, we get 7.7 back," Sachtleben says.
Ball State's system will use the stable temperature just under the Earth's surface to heat or cool buildings. "We will dump off the heat in the summer and pick up the heat in the winter," Sachtleben says. The system will function similar to standard geothermal heat pumps. "This is not experimental technology," he says. "We are taking existing technology and applying it on a massive scale for the first time."
Thousands of boreholes will contain a series of closed pipes that circulate fresh water. Energy stations will transfer heat pulled from or sunk into the ground to hot and cold water loops. The loops will pass through heat exchangers and fans will cool or warm the buildings based on thermostat settings
Construction began in July 2009 and more than 1,000 of the system's 4,100 boreholes have been dug. Sachtleben says drilling is on schedule and the university aims to complete the first phase of the project by next summer. The project is "100 percent American," he says, and has helped well drillers learn new skills for the clean energy economy. "We are setting up a program that results in the creation of green jobs."
The Department of Energy awarded Ball State $5 million in Recovery Act money for phase one of the project. The State of Indiana and other funding sources provided another $40 million for the first phase.
Ball State's effort to build the country's largest geothermal energy system "hits on all cylinders," Sachtleben says. The system will cut costs, eliminate pollution and help American workers. "This is the right thing to do."
For more on Ball State's geothermal project go to http://cms.bsu.edu/About/Geothermal.aspx