You are here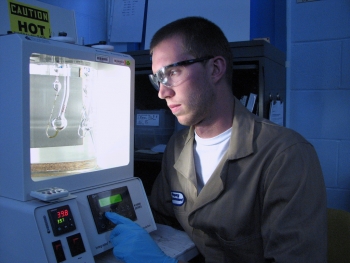 Intern Aleksander Navratil, Carroll College, is setting up to perform viscosity measurements of engine oil formulations for an Argonne National Laboratory program researching oils and additives to improve engine efficiency and reduce emissions. | Photo courtesy of Argonne National Laboratory.
This week, Energy.gov is heading back to school. We'll be featuring stories on the role students and schools play in driving America's energy economy -- from installing solar in the classroom to advancing innovations as interns at the National Labs. Stay up to date on our back-to-school week series by checking in with us everyday on Energy.gov, Twitter, Facebook and Google+.
College students are familiar with the standard internship routine -- running errands, fetching coffee and making copies. One program sponsored by the Energy Department provides students with anything but the usual -- hands-on experience performing cutting edge research at one of the Department's National Laboratories.
The Energy Department's Science Undergraduate Lab Internship (SULI) program is an immersive learning opportunity for the next generation of science, technology, engineering and math (STEM) professionals. Students in the program spend an academic semester as paid research interns at one of 15 participating National Labs.
The Energy Department's National Labs are centers for innovative scientific research with unique facilities and instruments, many of which are found nowhere else in the world. Interning with a National Lab gives each student the opportunity to work with tools or instruments that may not be available at his or her college or university, while also tackling real world research challenges.
Students in the program perform research under the guidance of laboratory scientists and engineers, many of whom are leaders in their respective fields. Host laboratories provide professional development opportunities, lab tours, scientific lectures and seminars to ensure that students learn as much as possible, both in and out of the lab.
As the semester comes to a close, students participating in the program must submit an oral or poster presentation of their research, a research report, an abstract for general audiences and a peer review of a fellow intern's project -- covering the full spectrum of the research life cycle and giving each student a valuable professional portfolio.
Applications for the spring 2014 semester are due by 5pm ET on October 5th, 2013, and offer notifications will be made between October 15 and November 29. A complete application includes undergraduate transcripts, contact and education information, essays, citizenship status and two letters of recommendation. For eligibility requirements or to submit an application, visit http://science.energy.gov/wdts/suli/.