You are here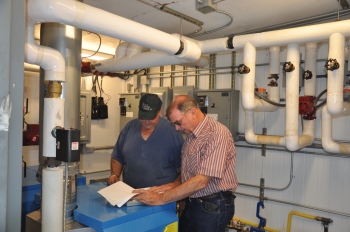 With new pipes and controls, the natural gas kilns Highland Craftsmen uses to produce poplar bark shingles will operate about 40 percent more efficiently, saving the company $5,000 a year in energy costs. | Photo courtesy of Highland Craftsmen.
Highland Craftsmen Inc., a small poplar bark shingle manufacturer in North Carolina, recently achieved the incredible energy efficiency milestone of net zero electricity use with funds provided through the Energy Department's State Energy Program (SEP) under the American Recovery and Reinvestment Act (Recovery Act). The owners, Marty and Chris McCurry, installed photovoltaic panels at their manufacturing plant to generate electricity, and they upgraded controls, piping, and flooring to improve the operation of three natural gas kilns that dry locally purchased wood. The grants were provided by the North Carolina Department of Commerce's Green Business Fund using Recovery Act SEP funds and were administered by the North Carolina Energy Office.
The energy efficiency upgrades will help the company produce its Bark House Brand siding with net zero electricity use, which means the operation will produce at least as much electricity as it uses in one year. The solar installation will decrease Highland Craftsmen's electric bills by $6,000 per year, enabling the company to sell the excess power back to the grid. The kiln upgrade, which is expected to improve kiln efficiency by 40 percent, will account for $5,000 in energy savings.
Depending on the seasonal needs, Highland Craftsmen employs anywhere from 14 to 70 staff members and buys locally sourced materials from more than 700 vendors. Co-owner Chris McCurry happily reports that 90 percent of all of the company's raw materials are purchased within a 100-mile radius and 100 percent are purchased within a 500-mile radius of the manufacturing plant.
The McCurrys strive to set the highest examples for sustainability. Their Bark House Brand shingles were awarded a Cradle to Cradle Gold Certification by the McDonough Braungart Design Chemistry firm, and the company was nominated for the 2011 Roosevelt-Ashe Society Conservation Award for outstanding business presented by the regional nonprofit, Wild South. Highland Craftsmen also sponsored Appalachian State University's award-winning Solar Homestead entry in the Energy Department's 2011 Solar Decathlon.