You are here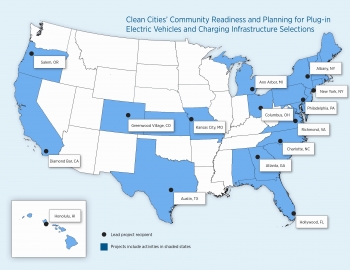 Projects to support community planning for plug-in electric vehicles and charging infrastructure will receive $8.5 million through DOE's Clean Cities initiative to facilitate local public-private partnerships that will develop EV deployment strategies. The funding recipients range from communities with extensive EV planning experience to those that are eager to begin, but have not previously had the resources to do so. These one-year projects will help communities address their specific needs, which include updating permitting processes, revising codes, training municipal personnel, promoting public awareness, or developing incentives, and each will create a plan that will be publicly available so that other stakeholders can learn best practices.
Applicant
Host Organization Location
DOE Award
Description
Oregon Business Development Department
Salem, OR
$485,000
The project will develop a comprehensive strategic plug-in electric vehicle market and community plan to address next-generation deployment strategies.  The plan will serve as a roadmap to achieve Oregon's goal of 30,000 PEVs by 2015.
University of Hawaii
Honolulu, HI
$299,693
The project will publish a plan to develop and implement a permitting process, incentives, policies, and a renewable energy grid system analysis for the expeditious and sustainable deployment of EVs and charging infrastructure.  The plan will help provide a model that can be adapted for broader application across the State of Hawaii.
South Coast Air Quality Management District
Diamond Bar, CA
$1,000,000
The objective of this proposal is to create a unified statewide approach to planning and implementation of critical plug-in electric vehicle charging infrastructure activities in order to support and expand the market for plug-in electric vehicles in California.
Center for Transportation and the Environment
Atlanta, GA
$545,400
The primary objective of the project is to establish a comprehensive, tri-state (Georgia, Alabama, and South Carolina) readiness and deployment strategy for EVs and EV infrastructure and begin implementation of the community-based Southeast Regional EV Deployment Readiness Plan.  
American Lung Association of the Southwest
Greenwood Village, CO
$500,000
The project will develop a comprehensive electric vehicle and electric vehicle supply equipment (EVSE) readiness and implementation plan for Colorado. This plan will target regulatory, permitting, planning, policy and marketing, education, and outreach initiatives to prepare for electric vehicles and charging infrastructure deployment.
Virginia Department of Mines, Minerals and Energy
Richmond, VA
$429,051
The activities of this planning project will lay educational and policy groundwork for electric vehicle adoption and charging infrastructure installation in the Richmond, VA region. A strategic plan will be developed and will identify and foster policies to expedite infrastructure implementation specific to the area and prepare the Commonwealth for successful deployment of plug-in electric drive vehicles.
Clean Energy Coalition
Ann Arbor, MI
$500,000
The project will support the development of a plug-in electric vehicle charging infrastructure community preparedness plan for Michigan. The project will incorporate state and local level policy implementation, education, and outreach. The plan will be a Michigan-specific guide enabling local communities to support a comprehensive plan for the widespread adoption of plug-in electric vehicles.
City of Austin, Austin Energy
Austin, TX
$499,782
The project will develop a plan and template that will support regional stakeholders in the development and implementation of local codes, expedited permitting and inspections, and processes and procedures to enable efficient and cost-effective placement of charging infrastructure in the area between San Antonio and Georgetown, Texas.
New York State Energy Research and Development Authority
Albany, NY
$994,500
The project will develop a plan and accompanying guidance documents to accelerate the introduction of a network of electric vehicle charging stations throughout the Northeast and Mid-Atlantic regions of the United States.
Clean Fuels Ohio
Columbus, OH
$500,000
The project will expand on Ohio's current plug-in electric vehicle readiness activities and produce a replicable deployment plan for plug-in electric vehicles, charging infrastructure, safety trainings, consumer education, marketing, and associated policy solutions. 
South Florida Regional Planning Council
Hollywood, FL
$500,000
The project will prepare the South Florida region's communities for successful and accelerated deployment of plug-in electric vehicles and infrastructure. This project will develop a plan to address technical, commercial, market and regulatory barriers to support EV infrastructure and vehicle adoption.
Centralina Council of Governments
Charlotte, NC
$500,000
The project will establish a plug-in electric vehicle readiness plan and task force for North Carolina.  The project will strengthen existing local and regional initiatives in North Carolina communities and coordinate efforts across the state.
New York City and Lower Hudson Valley Clean Communities, Inc
New York, NY
$418,612
The project will address infrastructure deployment plans for light duty vehicles in New York City, focusing primarily on parking lots located in both the central business district and key residential neighborhoods. It will also address solutions for regional travel to and from regional destination hubs.
Delaware Valley Regional Planning Commission
Philadelphia, PA
$387,698
The project will deliver a regionally-coordinated plan to address the introduction of plug-in electric drive vehicle charging infrastructure into the five counties of southeastern Pennsylvania. The project will provide strategic direction to the implementation of policies, procedures, and incentives to accelerate the deployment of EVs and EV infrastructure.
Metropolitan Energy Information Center, Inc.
Kansas City, MO
$441,178
This project will develop phased EV infrastructure installation plans for the Kansas City metropolitan area and for smaller communities, including the travel corridors between them.  It will develop and implement replicable actions for adoption by individual municipalities in the areas of planning, zoning, construction, permitting, and fleet policies.
Center for the Commercialization of Electric Technologies
Austin, TX
$500,000
This project will focus on a plan for plug-in electric vehicle charging infrastructure between the "Texas Triangle" cities of Dallas/Fort Worth, Houston/Galveston, and Austin/San Antonio along with topical areas of statewide application.