You are here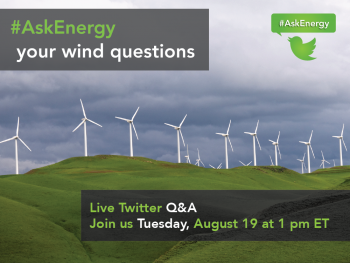 Have questions about wind energy? Experts from the Energy Department are answering your questions about wind during a live Twitter Q&A on Tuesday, August 19, at 1 p.m. ET. | Graphic by Sarah Gerrity, Energy Department.
Today, the Energy Department released two new reports highlighting trends in America's growing wind industry. Topping more than 61 gigawatts of installed capacity at the end of 2013 -- that's enough electricity to power nearly 16 million American homes a year -- wind energy is quickly becoming a critical source of clean, renewable power for the United States.
Now is your chance to learn more. Join us on Tuesday, August 19, at 1 p.m. ET for a live #AskEnergy Twitter Q&A on all things wind energy. Whether you want to know about new technologies helping to advance the wind industry or which states are leading the way in turbine installations, or how businesses and schools are turning to distributed wind energy to reduce their utility bills, Energy Department experts will be on hand to answer your questions.
Joining the discussion will be:
Jose Zayas, Director of the Energy Department's Wind and Water Power Technologies Office.
Ryan Wiser, Staff Scientist at Lawrence Berkeley National Lab and author of the 2013 Wind Technologies Market Report.
Alice Orrell, Energy Analyst at Pacific Northwest National Lab and author of the 2013 Distributed Wind Market Report.
We'll be taking your wind questions in advance and during the live Twitter Q&A. Submit them now by emailing newmedia@hq.doe.gov, posting in the comments on the Department's Facebook or Google+ pages, or tweeting @ENERGY using #AskEnergy.
We look forward to answering your questions!