No other state in our Nation faces climate change as urgently as Alaska. In recognition of this challenge, President Obama became the first sitting U.S. president to travel north of the Arctic Circle. In September 2015, he undertook a trip to communities across the state to see firsthand how they are being impacted, and how they are taking up the call to climate action.
Climate change is happening faster in Alaska than any other region of the United States, and, at the same time, many remote Alaskan communities must allocate enormous amounts of their limited resources to the costs of heat and fuel. The Department of Energy launched the Remote Alaska Communities Energy Efficiency (RACEE) Competition in an effort to help the state tackle these systematic problems.  RACEE Seeks to empower communities to develop and implement reliable, affordable, clean, and efficient energy solutions that can be replicated throughout rural Alaska and potentially in other Arctic or remote regions.
At the 50th Annual Alaska Federation of Natives Convention in October 2016, DOE is proud to announce the third and final phase of the RACEE Competition.
In phase one, RACEE called for remote Alaska communities to pledge to reduce their energy use 15% by 2020. The 64 communities who made this commitment were designated as Community Efficiency Champions. These 64 communities became eligible to apply for technical assistance – a chance to consult with experts on the best way to meet their energy-saving goals. DOE partnered with the Alaska Energy Authority to provide technical assistance intended to accelerate the development of energy-saving plans unique to these communities.
The second phase of RACEE began in April 2016, when 13 communities were selected to receive technical assistance. Over the spring and summer, those communities have been working with Alaska-based experts to identify the projects that will save energy in the most effective and suitable method in their respective communities.
In phase three, up to $3.4 million in total funding is available to selected Community Efficiency Champions to help them complete the projects they designed to reach their energy reduction pledges. These communities have worked hard with their partners over the last year to develop plans to reduce energy consumption in ways that will: decrease long-term energy costs; increase the reliability of energy supply; support environmental sustainability; provide best practices for other Alaskan communities to replicate; and, above all, support community priorities, so that the energy reduction plans that are implemented are effective for generations to come.
Today, we are excited to announce that seven communities will receive funding in phase three of the competition. The communities that have been selected for implementation of their innovative approaches are:      
City of Galena
Village of Holy Cross
Village of Kiana
Village of Klawock
City of Noorvik
City of Port Lions
City of Ruby
We are also launching the RACEE Peer Network to make the most of all that was accomplished through the leadership of the 64 communities who began this journey over one year ago.  This network will provide a platform for these champion communities to share what they've learned, consult with experts and peer communities, and engage with each other about ideas for action.
The Department of Energy is proud to partner in this extraordinary effort through the RACEE Competition, which could not have been achieved without the strength, passion, and ingenuity of Alaskans who live at the front lines of the fight against climate change. We look forward to seeing the effects that these projects will have on these communities.  Looking ahead, we are also confident that they will have a positive effect on energy planning more broadly through the demonstration of innovative solutions to Alaska's energy challenges.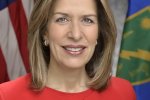 Dr. Elizabeth Sherwood-Randall
Dr. Elizabeth Sherwood-Randall was nominated by President Obama to be Deputy Secretary of Energy on July 8, 2014, and was confirmed by the United States Senate on Sept. 18, 2014.Dr. Elizabeth Sherwood-Randall was nominated by President Obama to be Deputy Secretary of Energy on July 8, 2014, and was confirmed by the United States Senate on Sept. 18, 2014.
more by this author