You are here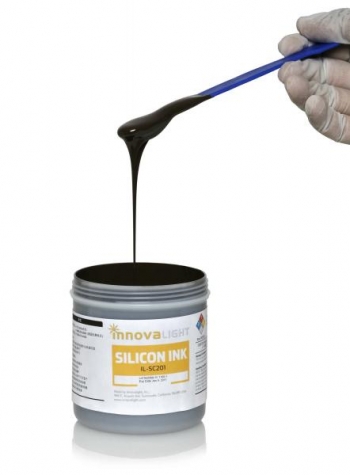 Innovalight's silicon ink technology | Photo courtesy of Innovalight
A pair of presenters approach the microphone carrying a sealed envelope, a faint drum roll is heard, cameras zoom in on the anxious faces of the nominees…we're all familiar with the award ceremonies for our favorite movie, music and television stars, but what about the scientists and entrepreneurs helping us innovate our way to a clean energy future? What recognition do they get for their outstanding work?
Every year R&D Magazine presents what they call the R&D 100 Awards. Often referred to as the "Oscars of Innovation," the awards are given to the top 100 innovative technologies, processes and materials with promising commercial applications. The magazine recently announced that a Photovoltaic (PV) Incubator -- supported silicon ink technology developed and refined at the Energy Department's National Renewable Energy Laboratory (NREL) was one of three solar technology projects supported by the lab to have won a 2011 R&D 100 award (and one of 36 that resulted from Energy Department investment in R&D).
Pioneering startup Innovalight partnered with NREL to invent the first liquid silicon on the market. When paired with Innovalight's industrial screen printing process, this silicon ink technology offers a novel path to producing solar cells with higher conversion efficiencies at lower cost. The company's award-winning work provides yet another example of the return the PV Incubator program continues to see from investing in collaborative efforts with solar start-ups that take full advantage of the NREL's expertise and facilities.
Innovalight's silicon ink technology takes a proprietary mix of silicon powder and other chemicals and liquefies them into an ink. Using a conventional, industrial screen printing technique, thin layers of silicon ink are then deposited onto crystalline silicon wafers to produce highly efficient solar cells. Depositing the ink adds only one low-cost step to an existing solar cell production line, yet this simple upgrade boosts the bottom line of a typical solar production plant by about 20 percent. For an average-size factory that equates to more than $100 million per year.
As Innovalight Business Development Vice President Nick Cravalho told me recently, the PV Incubator played a key role in proving out the company's product:
"Key technical challenges were overcome and the product was fully defined during the period in which Innovalight was under the PV Incubator subcontract.  During the 18 month PV Incubator project, we increased cell conversion efficiency from 14% to over 19% and developed Silicon Ink capacity to over 250 MW. In the same period, Innovalight increased its full-time staff in Sunnyvale by 50% and originated more than 10 patents."
In addition to the $3M PV Incubator cost share award the company received in 2008, Innovalight was recently selected for a $3.4M SunShot Initiative award to support companies developing technologies across the solar energy supply chain that can be rapidly spread across the industry. "Our development team is now focused on improving the profitability of cell manufacturers' lines through additional improvements in cell conversion efficiency using Innovalight Silicon Ink," Cravalho told me. "With the SunShot award we will be developing a new cell design that will push cell efficiencies over 20%."
Sustained strategic investments like these are helping to secure America's clean energy future and to realize the SunShot Initiative's goal of achieving cost competitive solar electricity by the end of the decade. The results of the Incubator Program suggest that it is an effective catalyst for helping industry reach that goal. Since 2007, $50 million of competitive funding for Incubator companies has been matched by well over $1 billion in private investment, delivering a 24-to-1 private-to-public investment ratio for the American taxpayer.
For more information about the 11 energy efficiency and renewable energy R&D 100 award winning projects see EERE's network news article. For more information about DOE's 36 R&D 100 award winning projects see the Energy Department news release.