You are here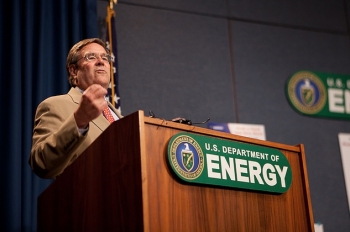 Above, Michael C. Kane speaks at the Energy Department's Feeds Family Sculpture Contest on August 30, 2011. In the fall of 2011, the Office of Personnel Management recognized Mr. Kane as the Chief Human Capital Officer of the Year. | DOE photo
Over the last year, the Energy Department has made great progress in improving the quality of its human resources (HR) services, and the commitment to these efforts shows. At the recent 2011 Fall Forum of the Chief Human Capital Officers (CHCO) Council, Office of Personnel Management (OPM) Director John Berry recognized one of the Department's senior leaders, Michael C. Kane, as CHCO of the Year.
Every day, I am inspired by Mike's commitment to public service and to bringing out the best in people. He spends untold hours every week mentoring, challenging and encouraging the current and future generations of our diverse federal workforce. The CHCO of the Year award not only honors Mike's unwavering leadership and dedication, but also the many accomplishments of the Energy Department's human capital team.
Through the Department's Time-to-Hire Reporting System, we are monitoring and reducing the bottlenecks in our hiring process, resulting in the second largest improvement among CHCO agencies by reducing the average from 175 calendar days in 2009 to 100 days in 2011.  For the next two years, we've set a goal of 80 days, including a target of 50 days for time from recruitment initiation to job offer.
We've joined with OPM to lead the development of HR University (HRU), the federal government's one-stop for human resources career development. HRU is aimed at addressing skill gaps within the HR community, achieving government-wide savings and establishing a means for sharing resources across all agencies.
Mike Kane chaired the Employee Performance Management Workgroup, which the CHCO Council similarly recognized with Workgroup of the Year honors. This collaborative effort among federal agencies, labor unions, management associations, OPM, and the CHCO Council is working on improving performance management throughout the federal government. As one of the lead agencies piloting this work, the Energy Department has recently deployed  a new online system for employee performance management and innovative learning programs to strengthen employee-supervisor engagement.
As the Department carries out its vital missions – from securing U.S. leadership in clean energy technologies and supporting scientific and engineering expertise to enhancing nuclear security through nonproliferation and environmental efforts – we will continue to strengthen our abilities to recruit, retain and develop a highly-skilled and creative workforce.