You are here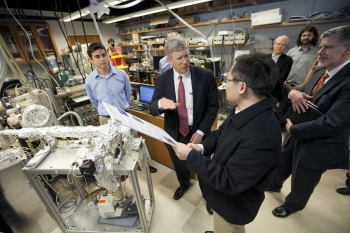 Deputy Secretary of Energy Daniel Poneman, center, talks with students at Duke University on April 21, 2014. | Photo courtesy of Duke University.
The economic, technical and environmental challenges we face in combating a changing climate are daunting, but the U.S. does not shrink from difficult challenges -- we embrace them. Last week, I took the opportunity to get out of the office and meet some of the individuals who will help build a safer, cleaner and healthier planet for our children.
On Monday I spent the day at Duke University with the next generation of engineers, scientists and energy leaders. In Durham, I met with students who are doing path-breaking work to advance clean energy technologies and push the boundaries of science. Through its new Energy Initiative Seed Fund, Duke is supporting six research projects -- ranging from thin film materials to industrial energy efficiency to water scarcity -- that will help meet the tide of growing global energy demand. I also visited energy and security research labs at Duke's Pratt School of Engineering and saw firsthand experiments to develop better energy storage technologies, as well as a one-of-a-kind gigapixel camera.
On Wednesday, I joined in the launch of the Georgetown University Energy Prize. Georgetown is using a $5 million prize to inspire small- and medium-sized communities to develop new ways to increase energy efficiency. Over 50 communities have already thrown their hat in the ring -- bringing residents, utilities, schools and local governments together to think outside the box and create innovative, replicable solutions to use energy more efficiently.
At the Energy Department, we're focused on some of the biggest challenges that we face as a nation, from nuclear security to developing all available sources of American energy to addressing the impacts of climate change. The answers that we need to meet those challenges successfully will come from places like Duke and Georgetown and from students and communities from across the country. Only a national effort that combines the ingenuity of individuals and localities with access to the best science and technologies can produce the breakthrough ideas and applications to build a more sustainable energy future for all.