You are here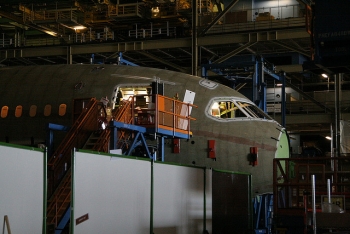 DOE is investing in projects that will increase energy efficiency in the manufacturing industry. One project will develop a new process for producing titanium components that could reduce the materials needed by ten-fold in aircraft and vehicle manufacturing. | Courtesy of Flickr user markjhandel, Creative Commons license.
"Invented in America, made in America, and sold around the world." At the Energy Department, this isn't just a catchphrase -- it's a course of action. By investing in opportunities for U.S. businesses and workers, the Department is helping secure America's future in the global clean energy economy.
Just today, our Advanced Manufacturing Office awarded more than $54 million to 13 projects that promise to increase energy efficiency across the manufacturing sector. From wastewater treatment, to making the pulp and paper industry more efficient, to enhancing the iron and steel production process -- these projects all demonstrate tremendous potential when it comes to saving manufacturers energy and money.
For instance, researchers in North Carolina are developing a system for industrial wastewater treatment and reuse that will use waste heat to treat a wide variety of waste streams at manufacturing facilities. The process will recycle more than half of the facilities' wastewater, decrease wastewater discharge, and recover significant amounts of industrial waste heat -- no small triumph when considering the large role water plays in the manufacturing process.
In Utah, the American Iron & Steel Institute and the University of Utah are developing a process that has the potential to reduce the energy needed to make iron by more than 50 percent. As a historically energy-intensive industrial process, this technology replaces the biggest offenders of energy and heat-using steps in ironmaking, a game-changer for the industry.
All of these projects have the potential to make huge steps forward in energy efficiency while creating jobs and helping American companies grow globally. And the private sector has realized the value of these innovative technologies as well. More than $17 million in cost-share investments have been made in addition to the Department's commitments.
The Department's Innovative Manufacturing Initiative is just one of many across the Administration working to boost the American economy, create jobs, and enhance the competitiveness of American companies at home and abroad. For more information about the announcement, read the press release.