Earlier this year, I called on our Nation's Power Marketing Administrations (PMAs) to help lead the 21st century transformation of our nation's electricity sector to better protect our economic and national security. As this process gets underway, the Department of Energy will work in close collaboration with each PMA to solicit the critical on-the-ground input vital to achieving this goal in the best manner possible. I look forward to working with all interested parties in every PMA region to meet this shared objective.
Upgrades are Key to American Competitiveness
The leadership of the PMAs is critically important because America's continued global competiveness in the 21st century will be significantly affected by whether we can efficiently produce and distribute electricity to our businesses and consumers, seamlessly integrating new technologies and new sources of power.
Other countries are moving rapidly to capitalize on cost-saving new smart grid and transmission technologies -- and we will find ourselves at a competitive disadvantage unless we do the same. Blackouts and brownouts already cost our economy tens of billions of dollars a year, and we risk ever more serious consequences if we continue to rely on outdated and inflexible infrastructure. For example, across the country, most of the transmission lines and power transformers we depend upon are decades old and in many cases nearing or exceeding their expected lifespan.
Lessons of the September 2011 Blackout
One recent example of the challenges we face occurred in September 2011, when a relatively minor loss of a single transmission line triggered a series of cascading failures that ultimately left 2.7 million electric customers in Arizona, Southern California, and Baja California, Mexico without power, some for up to 12 hours. The customers of five utilities -- San Diego Gas and Electric (SDG&E), Imperial Irrigation District (IID), Western Area Power Administration-Lower Colorado (WALC), Arizona Public Service (APS), and Comision Federal de Electridad (CFE) -- lost power, some for multiple hours extending into the next day. 
Put simply, this disruption to the electric system could have been avoided. The investigation into the blackout conducted by the Federal Energy Regulatory Commission and the North American Electric Reliability Council concluded the system failure stemmed primarily from weaknesses in two broad areas: 1) operations planning and 2) real-time situational awareness. Without these two critical elements, system operators are unable to ensure reliable operations or prevent cascading outages in the event of losing a single component on the grid. As our system ages, these situations threaten to become more frequent and even more costly. 
The Role of the PMAs in Accelerating the U.S. Transition to a 21st Century Grid
Most of our nation's electric transmission system is privately owned. However, the federal government directly owns and controls significant portions of the electric transmission system through its four PMAs, created to market and distribute hydroelectric power from federally owned dams. The PMAs, part of the Energy Department, are responsible for more than 33,000 miles of transmission that overlay the transmission systems of utilities in 20 states, which represent about 42% of the continental United States. The PMAs provide the federal government the ability to lead by example in modernizing and securing our nation's power grid, or risk putting the entire system -- and America's economy -- at risk. The benefits of action, as well as the risks and consequences of inaction, could directly or indirectly affect nearly every electricity consumer and every business in the United States. 
This is why my March 16th memo set forth foundational goals that DOE is considering for the PMAs. This is part of a much broader effort to transition to a more flexible and resilient electric grid and establish much greater coordination among system operators. 
Garnering Input from Stakeholders
To that end, today we are announcing six stakeholder workshops to ask for input from all stakeholders in the service area of the Western Area Power Administration (WAPA) to help guide this important process. These workshops are the beginning of a collaborative process to first identify and then, as necessary, begin implementing the changes that will update and enhance WAPA's operations. Starting in July, the workshops will take place in Phoenix, Arizona; Loveland, Colorado; Folsom, California; Sioux Falls, South Dakota; Rapid City, South Dakota; and Billings, Montana. Further details will be announced in the near future. We strongly encourage all WAPA customers and stakeholders to participate in these workshops to provide the important information necessary to undertake this critical effort.
The Western Area Power Administration has an enormous opportunity to assume a leadership role in helping prevent future blackouts by making the organizational and operational changes necessary to enhance overall system operations and planning. 
What These Reforms Will and Won't Do
Let me also take this opportunity to address some of the concerns that have been raised and clarify what this effort will, and will not, do.  
First, the fundamental mission of the PMAs to provide electricity at cost-based rates -- equal to the cost of generation and transmission -- will not change. PMA customers will continue to have access to affordable reliable hydroelectric power for decades to come. However, this fundamental mission will be at risk if we fail to make sensible investments to ensure the long-term security of our electrical system.
Second, the PMAs will need to make many of the same types of investments that other privately held electric utilities will need to make, and in some cases are already making, if the United States is to remain economically competitive. While the precise implementation plan and system requirements are yet to be determined, we will be investigating items like crucial investments to protect our infrastructure from cybersecurity threats, the adoption of synchrophasors, the upgrading and consolidation of control centers, the exchange of real time data with neighbors for situational awareness, and the exchange of scenarios and models for operational planning. These investments would pay for themselves many times over in terms of a more efficient, effective transmission system and are consistent both with the statutory requirements of the PMAs and the needs of the country as a whole.  
Third, the PMAs will work with their customers to make the system more versatile and capable of meeting our 21st Century needs. As an example, one issue we are looking at -- and interested in garnering input from stakeholders about -- is the payment and reservation system for our federally owned transmission lines. Currently, transmission service providers in the Western Interconnection, including WAPA, allocate transmission line capacity based on contractual obligations, rather than on how/if the line is actually being used. Policy changes, combined with technology improvements, could allow other players to gain access to a line when the primary capacity "owner" is not otherwise using the line. This could facilitate the construction and integration of new renewable resources like wind farms, creating jobs throughout the United States, while generating more revenues for WAPA and thereby facilitating lower electricity rates for WAPA's customers.  
Most importantly, however, changes made to the unique operations of each PMA will proceed only after garnering the invaluable input from stakeholders and customers who rely directly and indirectly on the four PMAs, including Members of Congress, who have a deep appreciation for the importance of the PMA system. And today's announcement focuses primarily on WAPA, a similarly robust and collaborative process will be undertaken in succession for each PMA. Our focus on WAPA will likely continue through the end of 2012.    
The Department is looking forward to embarking on this implementation effort with Western and with the other PMAs over the coming months and years as we work to transition our electric system to the 21st century to ensure our nation remains competitive in a global economy.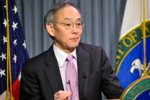 Dr. Steven Chu
As United States Secretary of Energy, Dr. Steven Chu was charged with helping implement President Obama's ambitious agenda to invest in clean energy, reduce our dependence on foreign oil, address the global climate crisis, and create millions of new jobs.As United States Secretary of Energy, Dr. Steven Chu was charged with helping implement President Obama's ambitious agenda to invest in clean energy, reduce our dependence on foreign oil, address the global climate crisis, and create millions of new jobs.
more by this author