During his recent State of the Union address, President Obama reiterated the importance of American energy: "One of the biggest factors in bringing more jobs back is our commitment to American energy. The all-of-the-above energy strategy I announced a few years ago is working, and today, America is closer to energy independence than we've been in decades."

In the month since the President's speech, I've been traveling across the country to highlight the Administration's efforts to promote production of domestic energy, create jobs and opportunities for American families, and address the serious issues posed by climate change. The President's all-of-the-above energy strategy is a path to progress on all three points.

Four weeks ago, I was in Virginia to talk about science, technology, engineering and math (STEM) education and job creation in the energy field. I visited Hampton University, a historically black university that has evolved into an impressive research university -- partly by drawing on collaboration with nearby Energy Department and NASA facilities. While there, I was able to announce that Hampton's President, Bill Harvey, has become an Ambassador for the Energy Department's Minorities in Energy program.

Three weeks ago, I was at the University of Texas in Austin and in San Antonio to talk about domestic oil and gas production and meet with students and entrepreneurs who are doing remarkable work to advance clean energy and advanced manufacturing. In San Antonio, Mayor Castro and I discussed how the Energy Department could do more with cities to advance clean energy and energy efficiency.

Two weeks ago, I was in southern California to help inaugurate Ivanpah, the world's largest solar thermal plant. Using the same amount of water as two holes at the nearby golf course, Ivanpah produces enough clean energy to power nearly 100,000 homes. This facility was made possible by an extraordinary public-private partnership between the Energy Department's Loan Programs Office, private enterprise, state government and utility companies.

And last week, I traveled to Waynesboro, Georgia, to mark the announcement of $6.5 billion in loan guarantees to support construction of advanced, "first mover" nuclear reactors -- the first to be licensed and begin construction in the U.S. in nearly three decades. The Vogtle Plant project will produce enough clean electricity to power 1.5 million homes while preventing 10 million tons of carbon pollution annually.

As I've seen first-hand in my travels, all-of-the-above isn't just a slogan. It's a clear-cut pathway to creating jobs while reducing carbon emissions, which recently stood at their lowest level in 20 years. And it's borne out by the numbers.

We're producing more natural gas than ever before -- a trend the Energy Information Administration forecasts will continue into the foreseeable future.  Nearly half of the drop we have seen in U.S. carbon emissions is due to the market substitution of natural gas for coal in the electrical sector. And natural gas has had a remarkable effect on domestic manufacturing. As the President noted in his State of the Union address, businesses plan to invest almost $100 billion in new factories powered by natural gas.

For the first time in 20 years, we are producing more oil at home than we import from the rest of the world. Yet we continue to work to reduce our dependence on oil -- through growing use of advanced biofuels, the rapid growth of the electric vehicle market, and the increased efficiency of our cars and trucks. The CAFE standards enacted during the President's first term are projected to save 2 million barrels per day of oil by 2025 and to save the U.S. $1.7 trillion in fuel costs.

Last week I got to sit in the cab of a Class 8 demonstration truck developed in the Energy Department's SuperTruck collaboration with industry. The goal of SuperTruck was to incorporate innovative technologies to increase the fuel economy of Class 8 trucks by 50 percent. If all 18-wheelers in the U.S. were built to SuperTruck standards, we could cut our fuel consumption by nearly 300 million barrels of oil a year, saving $30 billion in annual fuel costs.

We have also seen remarkable progress in clean and renewable energy. In the last five years, we have more than doubled the amount of electricity we generate from wind and solar -- and we are going to double it again in the next five years. And we are committed to being on the path to meeting the President's goal of doubling energy productivity by 2030.

In the face of climate change, economic recovery and volatile foreign energy supplies, the President's commitment to develop all available sources of American energy is a strategy that creates jobs, cuts carbon pollution and makes our country more secure. We simply can't afford to do less -- and, indeed, we will continue working to do more.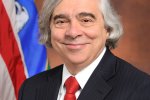 Dr. Ernest Moniz
As United States Secretary of Energy, Dr. Ernest Moniz is tasked with implementing critical Department of Energy missions in support of President Obama's goals of growing the economy, enhancing security and protecting the environment.As United States Secretary of Energy, Dr. Ernest Moniz is tasked with implementing critical Department of Energy missions in support of President Obama's goals of growing the economy, enhancing security and protecting the environment.
more by this author