You are here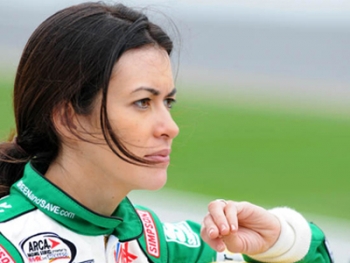 Leilani Münter adopts an acre of rainforest for every race she drives in. | Photo courtesy of Phil Cavali
Carbon Free Girl Leilani Münter is not your usual NASCAR driver. An avid environmentalist, Münter's goal is to spread an energy efficiency and green message to NASCAR's 75 million race fans. Münter is currently racing in the ARCA series, a development league of NASCAR, which runs from late February through October. She was named of the top ten female race car drivers in the world by Sports Illustrated.
When she's not on the track, Münter resides in North Carolina, where she practices composting, vegetarianism and gardening.
Energy Empowers recently spoke with Münter about her experiences going green on the track.
Q: How did you first start racing?
A: While I was going to college I ended up getting into a race car and kind of falling in love with it. When I graduated, I decided to start racing. Somewhere along the line I decided I really wanted to seriously pursue racing so I moved to North Carolina. I've been there since 2002.
Q: How did you incorporate "green" into racing?
A: This is how I can use my biology degree and my knowledge to educate a huge group of people. My racing is kind of outreach to the race fans, get them to make eco-friendly changes to their lives. NASCAR is a great place to do that because there are so many fans.
In 2006, I started by actively reaching out to the race community about solar power and wind power, alternative fuels.
Since 2007, I have been adopting an acre of rainforest for every race that I run in order to offset the carbon footprint of the race car.
Fuel cells at NASCAR
In 2011, under a Recovery Act grant through the U.S. Department of Energy, fuel cells as generator units will replace gasoline-powered generators at several NASCAR racing events. The initiative is being managed by Jadoo Power Systems who is partnering with NASCAR Media Group and Delphi Corporation. The organizations and Folsom California's police and fire departments will also test solid oxide fuel cell generators. These projects will establish the environmental and cost benefits of using a 1 kW fuel cell power system to generate electricity, as opposed to traditional gas/diesel generators and lead acid battery power sources.
Q: Do you race on biofuels?
A: [No.] I adopt an acre of rainforest for every race, to make up for the fuel I'm using at the track. I understand NASCAR is actively researching biofuels and hopefully in the future this is something they'll implement on the racetrack.
Also, I'm more selective with my sponsors—the companies that I'll put on my car. I'll only partner with companies who are doing green work. At the Daytona race, I had six eco-friendly companies on my car, a solar panel company, a wind power company, an LED lighting company—which was great. Those are the kinds of companies I work with.
Working with only eco-friendly companies poses a bit of a challenge for me; I can't work with just any sponsor. I'm a little pickier than the other drivers. I'm not forming partnerships with people who would make me keep quiet about environmental issues. Companies that are making an open effort to reduce their impact, that's a company that I'm open to being sponsored by.
Q: Was it difficult to find your niche with NASCAR fans?
A: You'd be surprised how many people in the clean energy and green sector come up to me and say they're closet race fans!
There are race fans that write me to share their experience with solar power. I'd say the cross over between the two sides is much bigger than the stereotypes.
The race fans forgive me for being an environmentalist because I have a race car. That's why they're listening to me; I have a race car underneath me. If I was just a biology graduate, trying to ask them to do these things, I don't think any of them would hear me.
That's the biggest struggle for me, I'm connecting these two worlds—race fans and environmentalists— sometimes it seems like they look at each other and they don't know how to talk to each other. What they don't realize is: it's not that hard! Just because you like fast cars doesn't mean that you don't care about clean energy and taking care of the planet.
Q: Have you seen racing's attitude towards clean energy change in the last few years?
A: I think that the sports world as a whole is realizing that they can play a role in going green and raising the public awareness. Sports venues need to encourage sustainability. NASCAR is making an effort and I know they have research and development going on with alternative fuels. IndyCar has been using ethanol for years and I hope NASCAR will be on a new fuel soon.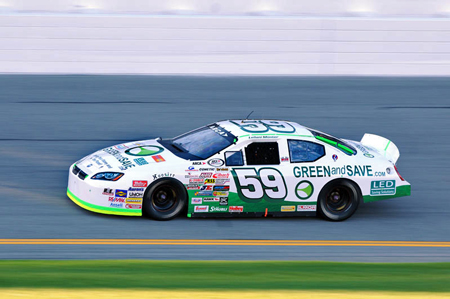 In February Münter qualified for the Lucas Oil Slick Mist 200 at Daytona International Speedway. her #59 GREENandSAVE Dodge with a speed of 178.564 mph. | Photo courtesy of Phil Cavali
Editor's note: NASCAR recently announced the activation of solar energy system at its Pocono raceway. The ground mount system, which will power the raceway and approximately 1,000 homes, is the world's largest solar energy system for any solar sports venue.
Q: For the last few years, you've been racing stock cars. What would your dream car be like?
A: Whether it's giving up plastic bags or composting, the goal is to use my race car to call to action the race fans when they go home or when they're turning in on TV.
I feel being a part of NASCAR is where I can make a really big impact in terms of raising awareness about our environmental issues. I'm definitely bringing a new audience to NASCAR and working on bridging the gap between environmentalists and race fans.
Q: What's the best way to communicate with race fans about energy efficiency?
A: It's important not to overwhelm people. I want to send fans the messages in a way they're going to listen.
I'd really like to have a mobile unit with us at the track to educate the race fans. You know, start with simple things like offering the top 10 things a race fan can do to reduce their carbon footprint, show them solar options for their home, explain how LED bulbs can save them money, etcetera.
Especially at larger races, there are up to 200,000 spectators, that's a lot of foot traffic. I'd like to have a trailer set up as an eco-education center where fans can go if they're curious to learn. If someone was sitting at the racetrack right now, there's no where they can go to learn and ask.