You are here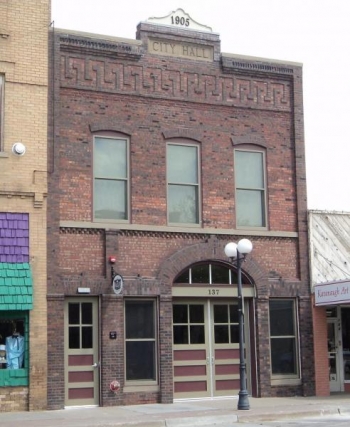 The restored Historic City Hall building in West Des Moines' Valley Junction neighborhood. | Photo credit: Vicky Saylor
The city of West Des Moines, Iowa is using funding from the Recovery Act to renovate the Historic City Hall building located in Valley Junction, a charming neighborhood that boasts a weekly farmer's market, a block party during the summer months and unique shopping throughout the year.
Like several businesses in the neighborhood, the Historic City Hall building has served West Des Moines families for decades. The 105-year old structure served as City Hall from 1905 to 1953, and supported the community's fire department, jail, city clerk's office and council meeting room. Since then, it has acted as a bakery, toy store and numerous other retail shops.

Restoration efforts began five years ago for the 3,500-square-foot space, and the city held a groundbreaking ceremony last fall. Earlier this week, city officials and local organizations hosted an open house for the public to view the building, which will serve in its new role as a space for the Historic Valley Junction Foundation. It will also provide classroom space for the Department of Human Services.

The project was funded in part by a $557,000 Energy Efficiency Conservation Block Grant (EECBG) awarded to West Des Moines as part of the Recovery Act. The renovations include the installation of four geothermal heating wells, a rooftop covered with vegetation, solar panels and permeable pavers to allow stormwater through to the soil below.

"The renovation of Historic City Hall in West Des Moines honors the expansion of the United States into the West, and the growth of our nation," said Department of Energy Secretary Steven Chu last week. "It's fitting that the city is using part of its Energy Efficiency and Conservation Block Grant to give this structure a new role in Iowa's future, utilizing renewable energy and reducing local energy costs."

For more information about the EECBG program, visit the Office of Energy Efficiency and Renewable Energy website.