You are here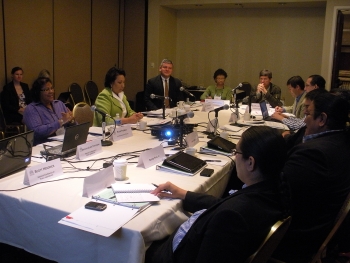 Office of Indian Energy Policy and Programs Director Tracey LeBeau meets with tribal leaders from across the United States in Portland, Oregon to discuss how to advance clean energy deployment in Indian Country. | The National Conference of State Legislatures
Last week, I attended the National Congress for American Indians (NCAI) Annual Convention in Portland, Oregon, where I had the opportunity to discuss how to advance clean energy deployment in Indian Country with tribal leaders from across the United States. By leveraging secure, streamlined project financing tools and building institutional capacity, we can help strengthen tribes' energy security and economic competitiveness while creating new, clean energy jobs and entrepreneurial opportunities.
In Portland, the Energy Department's Office of Indian Energy hosted its second Indian Country Energy & Infrastructure Working Group meeting. Last May, Secretary Chu announced the intent to form this working group, and in August we held our first meeting with elected leaders as well as utility operators and owners. This group is providing expert advice on potential solutions to the energy challenges tribal nations face and is working with the Department to implement these solutions – helping to achieve the promise that energy infrastructure development holds for both Indian communities and the nation.
At the NCAI Convention, my office also kicked off its first Tribal Leader Energy Education and Technical Assistance Initiative Workshop – providing tribal leaders and executives with the training, technical assistance and toolkits to confidently evaluate renewable energy proposals and financing options, a critical step to deploying these projects. Moving forward, this training series will continue to work with tribes to share the practical tools they need to launch community and commercial-scale renewable energy investments.
While we had tremendous tribal leader participation at our first training session, I look forward to hosting additional training opportunities in the coming months. Check out energy.gov/indianenergy for the latest news on our work.