You are here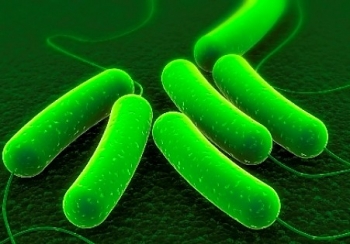 Strains of E. coli bacteria were engineered to digest switchgrass biomass and synthesize its sugars into gasoline, diesel and jet fuel. | Image courtesy of Berkeley Lab.
Who knew Escherichia coli (E. coli) could help America reduce its dependence on foreign oil? A breakthrough with the bacteria could make it cheaper to produce fuel from switchgrass -- an advanced biofuel with the potential to replace gasoline on a gallon-for-gallon basis. This could have an important impact on the United State's ability to produce more clean, renewable energy here at home.
Researchers at the Energy Department's Joint BioEnergy Institute (JBEI) have engineered the first strains of the bacteria to digest switchgrass biomass and synthesize its sugars into all three types of transportation fuels -- gasoline, diesel and jet fuels.
Why does this matter? Unlike corn grain used to produce ethanol, which contains simple sugars, switchgrass biomass contains complex sugars, cellulose and hemicellulose, bound in lignin. These complex sugars are not only difficult to extract from the switchgrass, but have to be converted or hydrolyzed into simple sugars before they can be synthesized into fuels.
However, JBEI researchers have demonstrated that engineered E.coli strains can both digest switchgrass and synthesize its sugars. They first pre-treat the biomass with an ionic liquid (molten salt) to dissolve it, then use the E.coli to both digest the dissolved biomass and produce hydrocarbons that have the properties of petrochemical fuels.
"This work shows that we can reduce one of the most expensive parts of the biofuel production process, the addition of enzymes to depolymerize cellulose and hemicellulose into fermentable sugars," says Jay Keasling, CEO of JBEI and leader of this research. "This will enable us to reduce fuel production costs by consolidating two steps – depolymerizing cellulose and hemicellulose into sugars, and fermenting the sugars into fuels – into a single step or one pot operation."
While this is not the first demonstration of E. coli producing gasoline and diesel from sugars, it is the first demonstration of E. coli producing all three forms of transportation fuels. Furthermore, it was done using switchgrass, which is among the most highly touted of the potential feedstocks for advanced biofuels.
Switchgrass can not only be used to produce fuels with a larger energy content than ethanol, it has other favorable characteristics that make it a highly desirable plant for biofuel production. This non-food crop is a perennial grass that is both salt- and drought-tolerant, can flourish on marginal cropland, does not compete with food crops, and requires little fertilization.
In addition to the "magic" of the ionic liquid pre-treatment, the JBEI researchers also attribute the success of this work to the "unparalleled genetic and metabolic tractability" of E. coli, which over the years has been engineered to produce a wide range of chemical products. However, the researchers believe that the techniques used in this demonstration should also be readily adapted to other bacteria. This would open the door to the production of advanced biofuels from lignocellulosic feedstocks that are ecologically and economically appropriate to grow and harvest anywhere in the world.
You can learn more about this breakthrough, here. JBEI, led by Berkeley National Lab, is one of three Bioenergy Research Centers established by the Energy Department's Office of Science in 2007.