Taking strong, bold and immediate action on the climate crisis demands all possible talent, and the U.S. Department of Energy – along with the full Administration – is deeply invested in ensuring women are participating and leading in the clean energy workforce.
The world celebrates International Day of Women and Girls in Science Feb. 11, a day to call attention to the work that needs to be done to close the gender gap in participation in the energy and STEM workforce at all levels, and a day to celebrate progress we made towards this vision.
The U.S. Department of Energy is taking action to accelerate gender diversity in clean energy fields.
C3E International, an international partnership to advance women's engagement in the clean energy sector, was launched at the first Clean Energy Ministerial in 2010. The U.S. C3E Initiative was born shortly thereafter, an effort that expanded to an annual Symposium, network of clean energy Ambassadors, and annual awards (nominations are open now), all run in partnership with MIT Energy Initiative, Stanford Precourt Institute for Energy and Texas A&M Energy Institute. A new webinar series was added last month – you can join the mailing list to receive invitations to future events in the series.
In 2017, C3E International was re-shaped to be an International Energy Agency Technology Collaboration Program in addition to being a Clean Energy Ministerial initiative, and now runs five workstreams as part of its approach to change the statistics of women's participation in the clean energy sector. These include increasing data analysis, forging strong networks, hosting dialogue and events, setting public commitments and action to equity through the Equal by 30 campaign, and spotlighting successes though the Ambassadors and Awards initiatives.
The effort's initial outcome resulted in over 150 signatories to the Equal by 30 campaign and co-hosting the most-watched side event of the Clean Energy Ministerial in September 2020. Senator Lisa Murkowski is one of the C3E International Ambassadors, along with 17 others from Chile, Finland, China and Austria. DOE will continue to participate in this work, aiming to speed up our transition to a clean energy economy through women's engagement in the climate crisis. Follow along on Twitter, @C3E_Intl_Energy.
These are only two of many examples from the Department of Energy seeking to address the gender gap in the clean energy workforce and center gender equity in the agency's work.
There's also many programs run by DOE National Laboratories that aim to inspire girls to pursue STEM and energy careers from an early age, provide hands-on STEM experience, boost STEM skills, and change the demographics of the energy workforce. Learn about our work at www.energy.gov/women, and join us.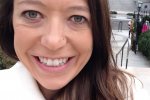 AnneMarie Horowitz
AnneMarie Horowitz has been with the Energy Department since 2010 and is a Public Affairs Specialist on the digital strategy team in the Office of Public Affairs.
more by this author