You are here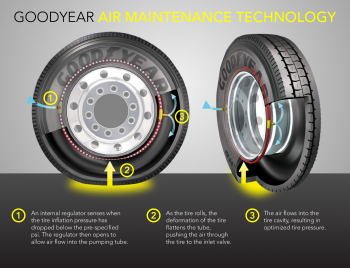 This graphic shows how Goodyear's new Air Maintenance Technology -- also called the self-regulating tire -- works. | Graphic courtesy of Goodyear.
Editor's Note: This blog post is part of the 54.5 MPG and beyond series, a look at fuel economy and emissions standards for passenger vehicles and some of the technologies that will help automakers meet those standards.
Imagine never having to think about under-inflated tires on your vehicle: No more hunting for a tire pressure gauge, no more digging for exact change and no more driving all over town to find a working air pump. Goodyear Tire & Rubber Company's new self-regulating tire not only has the potential to make this a reality, it could reduce fuel costs and improve safety.
Selected by Car & Driver magazine as one of the 10 most promising future technologies for 2012, one of the winners of the POPULAR MECHANICS 2012 Breakthrough Awards and named one of the best inventions of 2012 by TIME, Goodyear's self-regulating tire has the potential to revolutionize tire maintenance. The technology -- called Air Maintenance Technology -- works similar to the way muscles push food through the human digestive tract. When an internal sensor detects a drop in tire pressure, a valve opens to allow air to enter a tube mounted inside the tire. As the tire moves forward, the weight of the vehicle pushes the air through the tube, filling the tire back to optimal pressure and then closing the valve. And all of this happens without any action by the driver.
Maintaining proper tire pressure is one of the least expensive ways to increase vehicle fuel economy while saving drivers money. Under-inflated tires increase a vehicle's resistance, require the engine to work harder and use more fuel. In fact, 10 percent of a vehicle's useful energy is used to overcome rolling resistance. By keeping tires inflated to the recommended pressure, drivers can improve their gas mileage by a maximum of 3 percent -- the equivalent of saving up to $0.10 per gallon of gasoline. Properly inflated tires enhance safety, improve vehicle performance, wear evenly and prolong tread life.
With support from a competitively selected $1.5 million award from the Energy Department, Goodyear is currently developing self-regulating tires for commercial vehicles. The company will start testing the tires on commercial fleets in 2013 and use the data collected to inform the development of self-regulating tires for passenger vehicles.
The Energy Department is also supporting other innovations that improve vehicle fuel economy and require minimal upgrades. Unlike many other vehicle technologies, these can be installed in consumers' existing vehicles without needing to purchase a new car. These technologies, which will put more money in consumers' pockets, include:
Tires using advanced materials, such as nanofibers and silica. These tires would waste less energy than current tires, leading to improved fuel economy, while still maintaining traction, wear and stability.
Tires with more efficient designs, including changing the tire's height-to-width ratio and tread shape.
Better driver feedback systems that will help drivers improve the efficiency of their driving patterns while minimizing distractions. These feedback systems may also be able to help vehicles communicate with "smart" traffic lights and other vehicles to improve safety and fuel economy. To get more of these feedback systems into the marketplace, we recently announced the Apps for Vehicles Challenge.
Combined, these technologies have the potential to improve fuel economy and help consumers save money. In addition to helping consumers save money, they also provide concrete steps forward to reach the country's goals for fuel economy and emissions.