You are here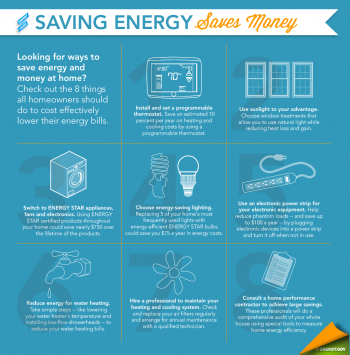 Looking for ways to save energy? Check out the top 8 energy efficiency tips that every homeowner should try. | Infographic by Sarah Gerrity, Energy Department. Updated January 2, 2014.
It's Earth Week on Energy.gov! All week, we're focusing on climate change, highlighting Earth Day events and sharing ways Americans #ActOnClimate -- from climate scientists at the National Labs to high school students competing in the National Science Bowl. Follow along all week on Twitter, Facebook, Instagram and Google+, and let us know how you #ActOnClimate.
From Fairbanks, Alaska, to Roanoke, Virginia, communities across America are going head-to-head in a two-year competition to reduce their energy use.
The Georgetown University Energy Prize challenges small- and medium-sized communities to develop creative ways to cut their energy consumption, helping put America on a path to a more energy-efficient future. To take home the ultimate prize -- $5 million for local energy efficiency programs -- communities will have to engage their residents, utilities, schools and local governments and think outside the box to create innovative, replicable solutions for lowering their energy use in homes and municipal buildings.
Deputy Secretary Daniel Poneman helped officially launch the competition today, highlighting how energy efficiency saves families money on their energy bills and helps protect our air and water. Throughout the competition, the participating communities will be able to tap into the Energy Department's Better Buildings Residential Network -- a follow on to the Recovery Act-funded Better Buildings Neighborhood Program -- for peer support and an extensive range of resources that are based on best practices and lessons learned from more than 40 state and local government energy efficiency programs.
While only one community will win the Georgetown University Energy Prize, everyone competing will benefit from improved energy efficiency, lower energy costs and cleaner air. To date, almost 50 communities have already indicated they plan to compete, but there's still time to sign up. The nearly 9,000 eligible communities -- accounting for more than 2 million Americans -- have the next three months to apply for the prize, and then will spend the next two years developing and implementing energy efficiency plans.
Whether your community competes in the Georgetown University Energy Prize or not, you can take action to lower your individual energy use. From installing more efficient light bulbs to setting a programmable thermostat to using a power strip for electronics, small improvements can add up to larger energy savings. For more ways to save energy at home explore our top eight energy-saving tips infographic above and visit Energy Saver.