You are here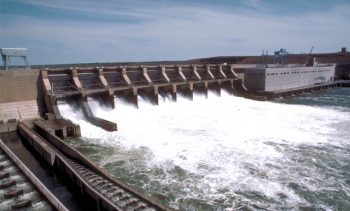 Ice Harbor Dam | Photo courtesy of the US Army Corps of Engineers
Today, the Department of Energy and the Department of Interior announced $26.6 million of available funding for companies and entrepreneurs looking to advance hydropower.

"By improving hydropower technology, we can maximize America's biggest source of renewable energy in an environmentally responsible way," said Secretary Chu.
Specifically, funding is available for projects in the following four areas:
Sustainable small hydropower
Environmental mitigation technologies for conventional hydropower
Sustainable pumped storage hydropower
Advanced conventional hydropower system testing
More information on these project areas and how applications will be evaluated is available in the official funding opportunity announcement. Interested parties must send a letter of intent by May 5 and a completed application by June 6, 2011.

For more information on the Department of Energy's goals and programs for advancing hydropower technology, you can check out the Department of Energy's Wind and Water Power Program site.